Due to coronavirus pandemic, businesses cannot rely on foreign visitors this year. And the flow of domestic tourists is rather small.
---
Follow us on LinkedIn
---
This year is quiet for the south shore of Issyk Kul. It has no foreign tourists because of coronavirus and closed borders, and very few domestic tourists. Rest homes and guesthouses reduce prices to somehow attract guests.
The majority of guesthouses in the southern shore of the lake is vacant. For local residents, summer is the time when they can earn to live out up to next year. But this year many residents worry they won't earn enough.
The coronavirus pandemic has forced people to adjust to new realias – guesthouses and hotels are ready to provide their clients with all necessary means of disinfection. The government has allowed them to work only if they observe all sanitary and epidemiological norms.
Although the locals are not that exposed to the panic and often disregard personal protective equipment.
"We come here only for a season and the money we earn here is enough to prepare children for school, to send them to sports clubs, to buy them clothes and footwear. But in June we did not have even local visitors. Although people from Bishkek come here to flee from heat, but we do not have this flow now," Rimma Alybekova, the owner of a guesthouse in Kadzhi Sai, said.
According to her, locals of neighbouring settlements located far from the lake – Karakol, Dzhety-Oguz – come here to have rest.
A yurt camp in the village of Tamga in the southern shore of Issyk Kul is closed due to coronavirus.
Popular travel places almost have no such activity as before. At the briefing on July 28, Kubatbek Boronov said that in June only three thousand domestic tourists visited Issyk Kul region, and 10 thousand by July 20.
The usual summer season did not came, but locals still grow apricots, vegetables, run the household for further sale. However, they worry that the authorities may ban movements between regions and there would be no sales. This kind of scenario is not improbable as in recent days Issyk Kul region reveals a sharp increase in the number of coronavirus cases.
The government explains this fact by the flow of tourists. Despite the fact that all tourists are checked when entering the region, some develop symptoms later. Volunteers in Issyk Kul region reported the shortage of medical staff in hospitals.
Cafes and stores lie empty now and are glad to every visitor.
Altynai is a saleswoman at a store and says they have few sales now, but she hopes for the husband's earnings. He has a stable job and salary, and her income from the store was always spent on new clothing for kids and other sundries.
— There's no one around as you see! Earlier, many foreigners used to come here in May and June. This is not a season for Kyrgyzstanis, while foreigners can take rest here quietly. Now it is very difficult, – Nargiza Dzhumakadyrova, the daughter of the café owner in the village of Kadzhi Sai, said.
— How do you work now?
— Well… breakfast is three times a day, lunch is four times a day, dinner is day and night, – the girl laughed.
The owner of a little café offering ashlyamfu in the village of Tosor failed to open her café this season. Previously, tourists used to stop here often before their trip to the Skazka canyons, but this year there are no tourists.
However, people try to have a positive mood in this difficult period. They have no panic because of coronavirus, they are just a bit worried.
A resident of Karakol said the town is rather quiet. Amid the deficit of medications, people gather money on their own and buy what they need wherever possible. Many people note that the nation has united now.
For example, in Karakol school graduates gathered money to help people with medications and personal protective equipment.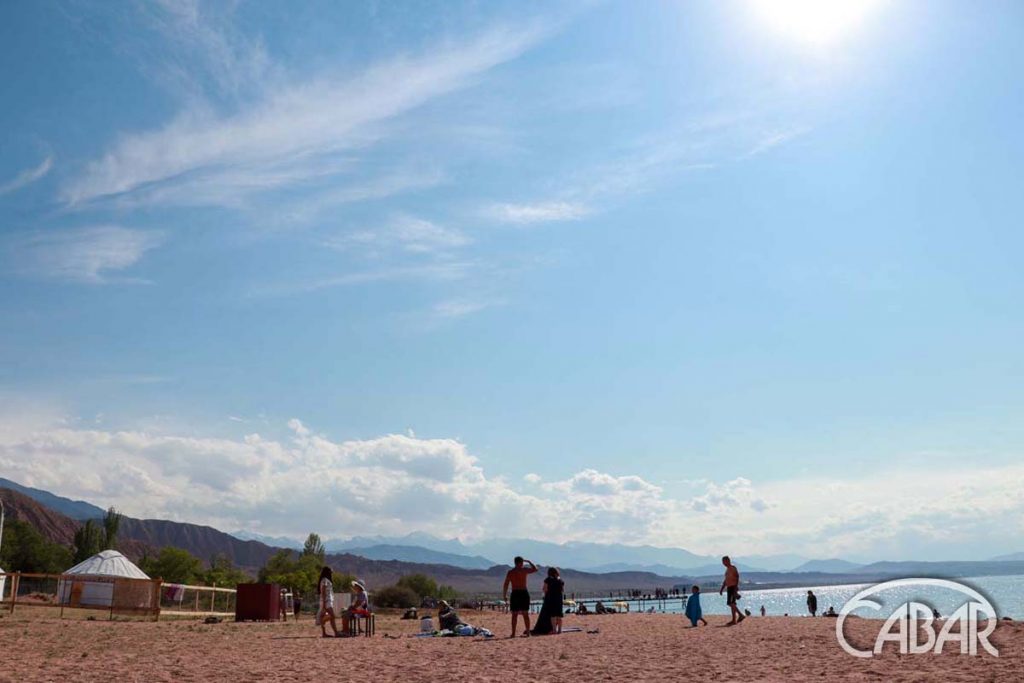 "Half of Tamga village are sick," a local storeowner said. "But everyone is tired of it. What's the difference? Anyway, all of us will get sick. No one goes to hospital. Hospitals have no spare beds and do not receive patients. They might receive patients only on call. Also, the hospital is too far from here, in Pokrovka. No one wants to go there."
Her store is connected with the café, but it was closed to have fewer contacts with people. They try to disinfect the store after every visitor.
"Now almost everything is closed because some are sick, some think there would be no visitors. This is how we live now. I hope this disease will decline and we'll live a normal life," the woman said.