Staff
Abakhon Sultonnazarov
IWPR Central Asia Regional Director
abakhon[at]iwpr[dot]net
Abakhon Sultonazarov is in charge of overall management, strategic planning, financial reporting, project delivery and human resources across the broad Central Asian region. He came to IWPR with 15 years' management experience with the UN and other international organisations in Central Asia, Afghanistan and USA. He has extensive experience of working with international donors such as USAID, EU and others. During his ten years at IWPR in Central Asia, he was able to form a strong organization in the region with a solid reputation. Abakhon is an expert in the field of regional politics in Central Asia.
Dmitry Zavialov
IWPR Central Asia Program Manager
dmitry[at]iwpr[dot]net
Dmitry Zavialov graduated from the Moscow State University with a degree of Specialist in International Relations in 2015. He then continued to study abroad at the University of Padua as an Erasmus Mundus student, where he obtained MA degree in Human Rights and Multi-level Governance in 2018. While at MSU and the University of Padua, he interned at governmental and non-governmental local and international organizations, including IWPR Tajikistan, Ministry of Foreign Affairs of Tajikistan and Danish Institute for Human Rights.
Lola Olimova
Program Manager/Editor of IWPR office in Tajikistan
lolak[at]iwpr[dot]net
Lola Olimova (Khalikjanova) is a professional journalist. Before joining IWPR in 2006, she worked as deputy editor-in-chief of the social and political weekly 'Business & Politics', and simultaneously headed the international department at the Russian-Tajik (Slavonic) University. She has also worked as a presenter on Tajik national TV and as editor-in-chief of the Russian service of the state news agency Khovar.
Almazkan Akmatova
Financial Director of IWPR office in Kyrgyzstan
almazkana[at]iwpr[dot].net
Almazkan Akmatova graduated from Business and Managements International School of Government Management Academy under the President of KR. She has fifteen-year experience in in the field of economy and the finance. From 1998 to 2006 worked as economist in the local company producing national drinks "Shoro". Then worked as a leading expert of the financial consulting company "Trust". From 2007 worked as a financial director in the IWPR Representative office in KR.
Timur Toktonaliev
IWPR Central Asia Editor
timur[at]iwpr[dot]net
Timur Toktonaliev has experience in local and international media. He started his career in Kloop.kg news edition as a reporter and parliament correspondent. Later he became a radio journalist and worked at Kyrgyz and Russian Services of "RFE/RL." In addition, he was engaged in new media filed: Timur was an author of the Kyrgyz Parliament blog; was a web-moderator of TV debates during the Presidential elections in 2011, and Parliamentary election in 2010. Before becoming the Editor of IWPR Representative Office in Kyrgyzstan, Timur has been cooperating with IWPR for 5 years as a freelance journalist. Timur Toktonaliev specializes in covering political, conflict, interethnic, religious, human rights and social issues.
Nargiza Muratalieva
CABAR.asia Analytical Reports Editor
nargiza[at]iwpr[dot]net
Candidate of Political Sciences, Associate Professor. Graduated from the Kyrgyz-Russian Slavic University, 2005 - Bachelor of Political Science, 2007 - Master of Political Science. In 2010 she defended her thesis on "Regional policy of Russia and China in Central Asia and the SCO as a factor of interaction." He has many years of experience in basic research. She completed a research internship at Oldenburg University, Germany. Author of the monograph "Russia and China in Central Asia", co-author of about 10 monographs, author of more than 50 analytical articles in online and peer-reviewed publications. Member of several research projects.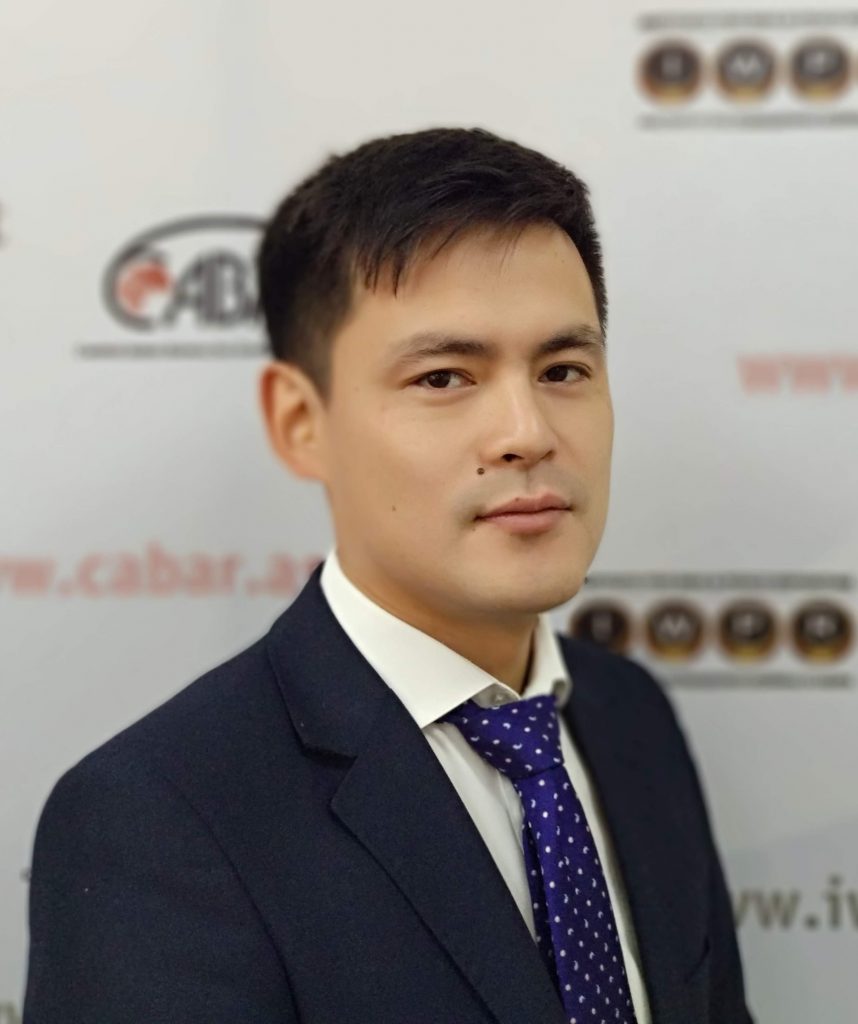 Ermek Baisalov
CABAR.asia Analytical Reports Editor
ermek[at]iwpr[dot]net
Ermek Baisalov has graduated from the American University in Central Asia with a degree in International and Comparative Politics in 2010. He began his career at the Danish Refugee Council in rebuilding the city of Osh after the events of 2010, then worked in various international development organizations. Ermek took part in international election observation missions as a long-term observer in such countries as Afghanistan, Ukraine, Kosovo, etc. In 2017 he received a master's degree in Politics and Security from the OSCE Academy in Bishkek. Ermek has passed the school "Masters of the Analytics and Experts" organized by the Center for Public Policy in Bishkek in 2018. Research interests: regional security, political processes in Central Asian countries, prospects for the development of regional international organizations (SCO, CSTO, EEU and CIS), elections and decentralization.
Natalia Lee
CABAR.asia Editor
natalial[at]iwpr[dot]net
Graduated from the Kyrgyz-Russian Slavic University, specialty – international journalism. In 2007 started her career as a TV reporter for "Pyramid" broadcasting company. She worked for "Stan Media", 5 channel and production companies. From 2015 moved to online media. She was contributing editor for "Vechernii Bishkek" website and then for Sprut.kg. Has been cooperating with IWPR since 2018.
Marat Mamadshoev
Chief editor, IWPR office in Tajikistan
marat[at]iwpr[dot]net
Marat Mamadshoev works in a field of journalism since 1998. He worked as a correspondent and editor in Asia-Plus newspaper, editor of Internews Tajikistan website, editor of Information Agency "Ozodagon". Marat has experience of cooperating with international news agencies. He is a high-profile mentor and trainer on the standards for content quality and ethical norms in journalism. He is a winner of O. Latifi award for the professional journalism. Marat has been working at IWPR since 2019.
Gulafshon Sokieva
Program Coordinator of IWPR office in Tajikistan
gulafshon[at]iwpr[dot]net
Gulafshon Sokieva graduated from the journalism faculty of the Tajik State National University (TSNU) in 2007. In 2003 started her career as a reporter for newspaper "Ruzinav" (New day). Winner of "Best Journalist – investigator of the Year" in 2014. Had been working in IWPR since 2013.