The coronavirus pandemic has had an impact on the construction sphere of Kyrgyzstan. According to experts, construction companies are likely to delay already launched construction projects despite their promise to complete them beyond the due date.
---
Follow us on LinkedIn
---
From March 22, when Kyrgyzstan announced the state of emergency because of coronavirus pandemic, construction works across the country were suspended.
Turpan Stroi Construction Company had to suspend construction of the 14-floor residential house at the level of floor 9-10. General Director of the company Zhenishbek Zhumakadyrov worries they won't be able to commission the project to clients in the promised time frame.
"We haven't worked for more than a month already. We should have completed construction by the end of this year and commissioned the project to customer by May 2021. Unfortunately, the multi-storey house completion will be suspended for two months due to coronavirus. I think people would understand it" Zhumakadyrov said.
According to the National Statistical Committee, 1,797 residential houses with total area 208 square metres were built in January to March 2020. This is 1.3 per cent more compared to 2019. The share of construction in the national GDP was growing in recent years.
Since May 1, the government of Kyrgyzstan permitted activities of some spheres, including construction.
According to the National Statistical Committee, in 2019 12,806 people were engaged in construction. As to Bishkek, many construction workers come from other regions. Now it is difficult to involve construction workers despite the permission.
"Many workers have moved to their villages. We don't know if they will come. But we need to move on anyway. We cannot stand idle," Zhumakadyrov said.
Construction companies predict that the lockdown will affect the number of construction projects to be implemented in 2020.
"This year we planned to start construction of 2-3 projects. On May 1, we should have started construction of Tunguch Ordo high-rise building. Now we need to wait a little," Zhumakadyrov said.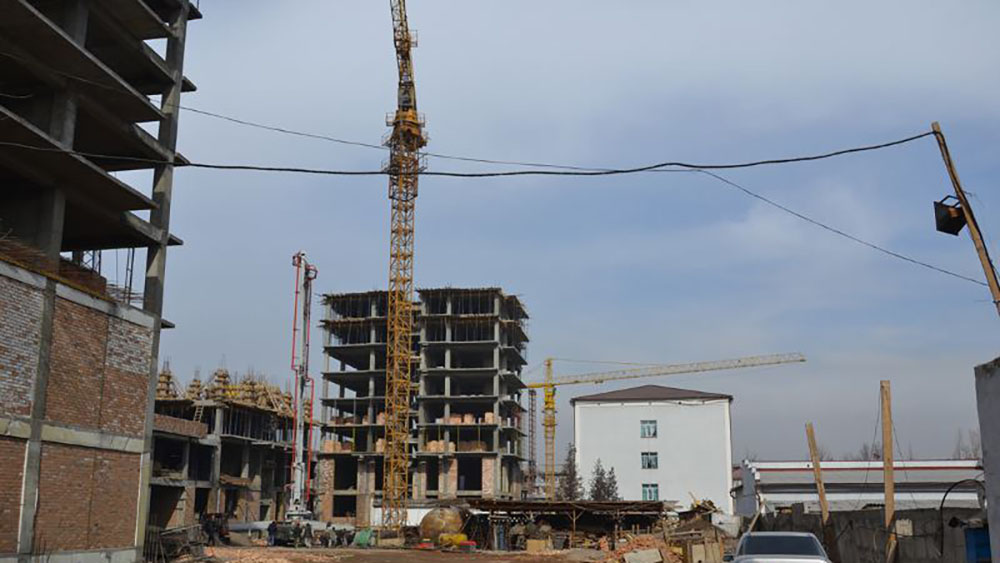 "What will be next?"
However, despite the fact that the state of emergency in the country is being eased and construction companies resume activities, the future of the real estate market is up in the air.
"Now clients do not make payments. This is caused by many reasons. Each of us wonders, "What will be next? Maybe I should not pay now?" Beishenbek Imanaliev, the head of Imarat Stroi construction company, said.
The construction sphere of Kyrgyzstan started active development in recent years due to migrant workers, as doctor of economics Tolon Abdyrov said. They purchased houses with mortgage or by instalments with the money they earned abroad.
"Due to coronavirus, their operations were suspended and salaries were cut, some of them never returned homeland, some returned back home for ever. As a result, buyers cannot make monthly payments for the purchased apartments. This, in turn, causes a serious damage to the activity of a construction company", he noted.
Economist Daniyar Amanaliev noted that coronavirus consequences have inflicted a serious blow to the national economy. People after the lockdown will have limited money and they won't invest them into apartments.
"The volume of sales has declined greatly. This situation will have a significant impact on the budget of construction companies. Therefore, they need to cut down expenses and start building residential houses of a new standard," Amanaliev said.
Completion of pending construction projects is now doubtful. Construction companies say they cannot complete construction at their cost because they don't have such money. Therefore, they need to take loans from banks.
"We take loans for millions som from banks. Otherwise, construction will stop. As a result, some part of our income will be used to repay the loan," Beishenbek Imanaliev said.
Economist-analyst Rinat Kamiev said that companies that have no cash at hand are unlikely to complete construction due to such difficulties.
"Small construction companies that launched their activities recently are having hard time. Such organisations are likely to become bankrupt and stop construction. This situation will have a negative impact on the activities of all companies, plants, points of sales related to construction," Kamiev said.
Will the government help?
The crisis will affect not only construction companies, but markets and outlets that sell building materials," Tolon Abdyrov said.
"Many companies, enterprises selling building materials may face stagnation of business. As a result, national economy will go into a recession. It is important for the national government to help the construction business at least with taxes, if not money," the analyst said.
However, the construction sphere is not on the list of priorities of the government. Soft loans will be provided only to food security sectors, production of medical devices, regional projects, processing industry, etc. This is the second package of anti-crisis measures to recover the economy.
According to the republican headquarters, a complex programme of post-crisis rehabilitation and economy development will be developed. However, we don't know if the construction sphere would be involved.
According to Daniyar Amanaliev, the government must help construction companies at least in terms of taxation.
"Today the government helps its citizens via the rights of others. For example, it made a decision "On renewal of credit maturity to citizens". In this case, the government should have provided a certain volume of compensation. However, compensation was not provided, which is bad. For construction companies, the government should provide at least tax privileges," he said.
However, they should rely not only on government's assistance and loans, economist Seitek Baiguttiev said. In his opinion, this crisis has shown that construction companies should think about some changes in the long-term plans and politics.
"The companies should specify if the apartment is consistent with the standard of living and to sell them cheap. Then, they will see some improvements. No one would pay high price and the ranking of the company will decline. I think, they should study the consumer demand and act accordingly," Baiguttiev said.