Back in 2016 in Tajikistan, in order to develop tourism, the authorities introduced a new type of service – electronic visa (E-Visa). The Ministry of Foreign Affairs of Tajikistan believed that it would simplify visa obtaining process for foreigners. However, travel companies and some tourists complain that these visas are difficult to obtain.
---
Follow us on LinkedIn
---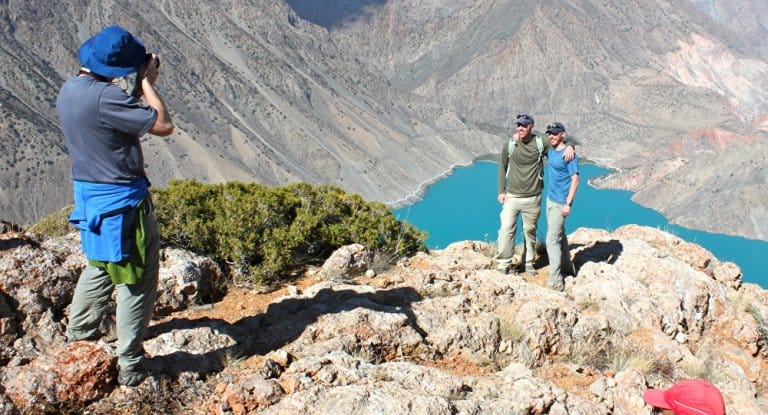 One of these tourists, Feico Boomkens, on his Facebook page complained that he had difficulties applying for a visa to Tajikistan and could not solve this problem for a long time.
"We filled out an application on the E-Visa website, but within ten days we did not receive a response and could not get a visa. Several times we applied to the consular department of the Ministry of Foreign Affairs of Tajikistan for a visa. We emailed this department, but still have not received any response from them. With time, I applied to the Consulate in Belgium and five days later we were issued visas. At the same time, I had to pay $71 for this visa again. This is not our fault, but the system's", he wrote.
Melissa Down, another tourist who wants to come to Tajikistan, faced the same problem.
"Our application for an electronic visa was probably not accepted. Several more people who planned to visit Tajikistan faced similar problem. Payment failed, and there was no notification informing of this. At the same time, the system does not allow filling a repeated application with the same passport numbers. For help, we emailed to the address indicated on the site, but did not receive any response", she wrote.
Meanwhile, other foreign tourists say they easily received electronic visas to Tajikistan.
Bruno and Maryann, two foreign tourists from Switzerland, say that they had no problems getting visas to the Republic of Tajikistan, and they did not encounter difficulties even when crossing borders.
Invork, 24, a tourist from Australia, has been in Tajikistan for a week and during this time visited several cities, from Penjakent to Khujand, and also told CABAR.asia that he did not encounter difficulties in obtaining visa.
Invork traveled to several Central Asian countries and did not encounter any obstacles when crossing borders. He liked Tajikistan, and he plans to come to this country once again, next time together with his wife.
Travel Agencies Alone Are Not Able to Develop the Industry
Meanwhile, travel companies believe that foreign tourists are experiencing quite serious problems in obtaining electronic visas. Travel agencies are asking the Tajik government to resolve the problem soon, as this obstacle scares off foreign tourists coming to the country.
Umeda Kurbonbekova, the Director of the Javohir travel company, in CABAR.asia interview noted that other countries have simplified the electronic visas obtaining process.
"Just look at other countries! All our neighbors have simplified obtaining electronic visas, but the consular department of our Ministry of Foreign Affairs does little for it. It is clear that travel agencies alone are not able to develop this industry. We need help from the government side", she said.
Dilovara Bahromova, the head of the Ganjina travel company, also noted that many tourists who want to visit the country cannot obtain visas. She believes that it is necessary to expand the list of countries with visa-free entry to Tajikistan.
"Electronic visas obtaining is another problem, due to which tourists cannot visit our country. Most of the tourists coming to us are from Europe. Recently, citizens of Hong Kong, Taiwan and China have also faced this problem, and we also have many tourists from these countries", she said.
In addition, according to the head of this company, a big problem is the lack of good hotels in remote regions of the country. Hotels in the border areas do not meet international standards, so not all foreign guests stay there.
"It would be good if large hotels were built in the districts and there were special tourist buses. Also, it would be nice if special recreation centers for tourists are created near the roads on the main tourist routes", said Bahromova.
The Silk Road Influence on the Tourism Development
Some experts believe that the tourism development in Tajikistan may be affected by the Silk Road project, which connects Asia with Europe.
Abdurakib Kodirov, economic expert, said that the Silk Road project can be useful as a tourist destination only if it becomes one of the main highways connecting Tajikistan with China, passing through GBAO. However, according to him, the road is currently in terrible condition.
"Therefore, if the People's Republic of China defrays the expenses of the repair of this road to Badakhshan, then the best conditions for tourists will be provided", he said.
In addition, according to the economist, another way to develop tourism is to build a highway between Tajikistan and Pakistan, which can pass through the Wakhan valley of the Ishkashim district; the implementation of this project is related to the Aga Khan Fund.
"If Pakistan builds a road between Tajik Badakhshan and the Indian Ocean, then these two routes can serve as a financial boost to the tourism industry", the expert said.
Another Tajik economist, Zulfikar Ismaili, claims that the Silk Road project is just a commercial route, the real purpose of which is business.
The Silk Road project was announced at the XVIII Congress of the Chinese Communist Party in 2013. It combines two major projects: the Silk Road Economic Belt and the 21st Century Maritime Silk Road. The project aims to build energy, transport and trade corridors between China and the regions of Central Asia, Europe and the Middle East.
Authority's Declaration of Intention to Resolve the Problem
Meanwhile, the chairman of the Committee on Tourism Development under the Government of the Republic of Tajikistan, Numon Abdugafforzoda, in CABAR.asia interview said that this problem has already been solved.
"The problem was raised jointly with tourism companies and the Ministry of Foreign Affairs and it has already been solved", he said.
Currently, according to the Chairman of the Committee, a special working group has been created which works to further simplify the process of obtaining electronic visas.
"This working group includes representatives of associations and the Committee on Tourism Development, and I am sure that this group will be able to develop useful proposals to facilitate visa access", he said.
According to him, to visit GBAO, visa-free tourists must obtain permission from the Ministry of Internal Affairs.
Abdugafforzoda also noted that tourists no longer need to obtain a separate permit for a trip to Badakhshan, since this permission is already included to the visa.
"Obtaining permission to visit GBAO is no longer a problem, and residents of the countries applying for an electronic visa already receive such permission with their visa", he said.
However, Abdugafforzoda added that visa-free tourists need to get permission to visit GBAO through the passport service of the Ministry of Internal Affairs.
On June 1, 2016, the Government of Tajikistan launched an electronic system for issuing visas to citizens from 112 countries.
According to the Committee on Tourism Development, currently there are 173 travel companies working in Tajikistan, which are 59 companies more than in the same period of 2018.
Recently, Tajik authorities have taken various steps to attract more tourists to the country.
A special room was opened at Dushanbe International Airport to provide information to tourists.
During the first six months of this year, 604,144 foreign citizens entered the country, of which 550,325 were identified as tourists.
---
This article was prepared as part of the Giving Voice, Driving Change – from the Borderland to the Steppes Project implemented with the financial support of the Foreign Ministry of Norway. The opinions expressed in the article do not reflect the position of the editorial or donor.