After the collapse of the Soviet Union, they have not been solved for years.
---
Follow us on LinkedIn
---
Coronavirus tests health care of Uzbekistan for strength
The pandemic has become a test for the health care system of Uzbekistan. A virologist on condition of anonymity told CABAR.asia how domestic health care system deals with the coronavirus.
According to the interlocutor of CABAR.asia, the Tashkent Institute of Advanced Training for Medical Practitioners has held trainings since March, including on how to diagnose SARS CoV-2 with PCR (polymerase chain reaction), which is deemed the most accurate method. Every day specialists of the institute for virology get thousands of samples to test for coronavirus disease.
The risk of getting infected during diagnosis is not lower than in the intensive care. Specialists work in shifts in safety cabinets that prevent biological material from dispersing. One shift lasts at least for 12 hours and all the staff wear disposable protective equipment.
"We don't have enough qualified personnel. Doctors sleep few hours a day and in fact live in laboratories," the source said.
According to the National Chamber of Innovative Health Care, nearly four thousand doctors have become volunteers to help their colleagues who fight coronavirus on the front line. The head of state in his order decided to motivate medical staff. Every month doctors who contact the patients will be receiving 25 million sum (almost 2.5 thousand dollars), nurses and laboratory assistants will be receiving 15 million sum (almost 1.5 thousand dollars).
Medical workers can count on receiving such bonuses after working 14 days a month. They are quarantined for the next 14 days and tested for coronavirus just before the quarantine.
Colleagues from abroad, primarily from China, provide active assistance to the medical workers of Uzbekistan. The method of virus treatment is based on the recommendations of Chinese specialists. In particular, they use the combination of hydroxychloroquine sulphate and azithromycin.
In Tashkent, the coronavirus patients are treated in three medical institutions – Institute of Virology, Institute of Epidemiology, Microbiology and Infectious Diseases, as well as the City Clinical Infectious Diseases Hospital. Patients are referred to these institutions only if they have coronavirus disease confirmed. They are mainly people who were placed under quarantine after a trip abroad or a contact with the coronavirus patient.
Hastily built quarantine centres for 10 and 20 thousand patients are operating near Tashkent. People there are placed into isolated wards, four in each. Similar centres have been hastily built in other districts of the republic.
These measures, according to the Chief State Medical Officer Bakhrom Almatov, have helped to improve the coronavirus sick rate.
According to Radio Ozodlik, the authorities of Uzbekistan are creating additional 200 thousand beds in case of the worst scenario of coronavirus distribution.
However, the ministry of health has not confirmed this information yet.
Although the day before the president of Uzbekistan urged to accelerate the raising of 277 million dollars from international creditors and donors to fight the pandemic. He ordered to purchase extra 2.3 thousand ventilators with the borrowed money.
In general, the quarantine across the country is well organised, according to specialists. However, there are some violations, such as spontaneous trading between patients isolated in quarantine and the outside world.
There are also facts of negligence of medical staff. For example, a resident of Tashkent repeatedly went to district medical institutions and complained about suspected coronavirus. Every time medical workers examined her and sent her home even without testing her for coronavirus. Only after her fifth complaint, when her health got worse, she was tested positive. The negligence of doctors led to the infection of a few people and quarantine of two large medical institutions.
According to the ministry of health of Uzbekistan, there is no deficit of medications and personal protective equipment. Also, there is no shortage of ventilators. Uzbekistan both produces ventilators and procures them from Russia.
As of April 21, 2020, there are 1,627 Covid-19 cases officially registered in Uzbekistan.
Expert: Tajikistan did not expect such an outbreak of virus diseases
According to experts, Tajikistan, in terms of medicine, as well as the international community, was not prepared for the coronavirus.
According to professor Saidbek Sattorov, head of department of microbiology, immunology and virology of the Abuali ibn Sino Tajik State Medical University, the reason of such unpreparedness was the new virus.
"Even developed countries did not have medical and diagnosis materials to treat and identify it," Sattorov said.
According to him, detection and treatment of all infectious diseases depend on quality and timely diagnosis.
"Unfortunately, microbiology, immunology and virology are the key areas in medicine and are underdeveloped. All medical disciplines depend on these three sciences. Therefore, we need to develop these disciplines in Tajikistan not to ask for help. We need to develop the theoretical medicine, which is fundamental," professor said.
A few years ago, Sattorov was the head of the Research Institute of preventive medicine with the virology and immunology laboratory. According to the professor, special building and advanced medical equipment need to be in place.
"If they have equipment and building, Tajik specialists will be able to improve their skills abroad and then get back and work," Sattarov said.
He emphasised that the training of specialists is very important because "their advice will then need to be listened to."
Medical expert, Dr. Makhmudshokh Kabirov believes that the degree of preparedness of Tajik immunology and virology specialists for a new infection remains to be seen.
"Not only Tajikistan, but also the majority of the superpowers did not give priority to the development of a system of protection against infections and did not expect such an outbreak of viral diseases. But if a boxer does not fall from the blows of his opponent, it means that he is well prepared," Kabirov said.
According to him, virology and immunology in Tajikistan are still at the level of the Soviet period and need to be improved.
"Unfortunately, we do not have modern laboratories for the prevention of this disease, we cannot manufacture equipment, medications and diagnostic accessories for researches," M. Kabirov noted.
Also, in his opinion, infectious disease medicine and social psychiatry are still underdeveloped.
"For example, coronavirus is still not identified in Tajikistan, but people, especially medical workers, are already getting nervous. They already need psychological aid," Kabirov said.
According to him, after the pandemic is over, the national hygiene, the health care system, including infectious, social and psychiatric care, need to be improved, and an infrastructure for the development of psychiatry need to be created.
"Rich people need to learn how to make charitable donations and to support domestic medicine. It is also necessary to increase the salaries of doctors and the funding of the health care sector as a whole," M. Kabirov said.
Tajik authorities claim they are doing everything to prevent the spread of the new coronavirus. At the end of March, the republican headquarters was established under Prime Minister Kohir Rasulzoda to strengthen anti-epidemic measures with the involvement of the heads of all ministries and agencies, the prosecutor general and the Security Council Secretary.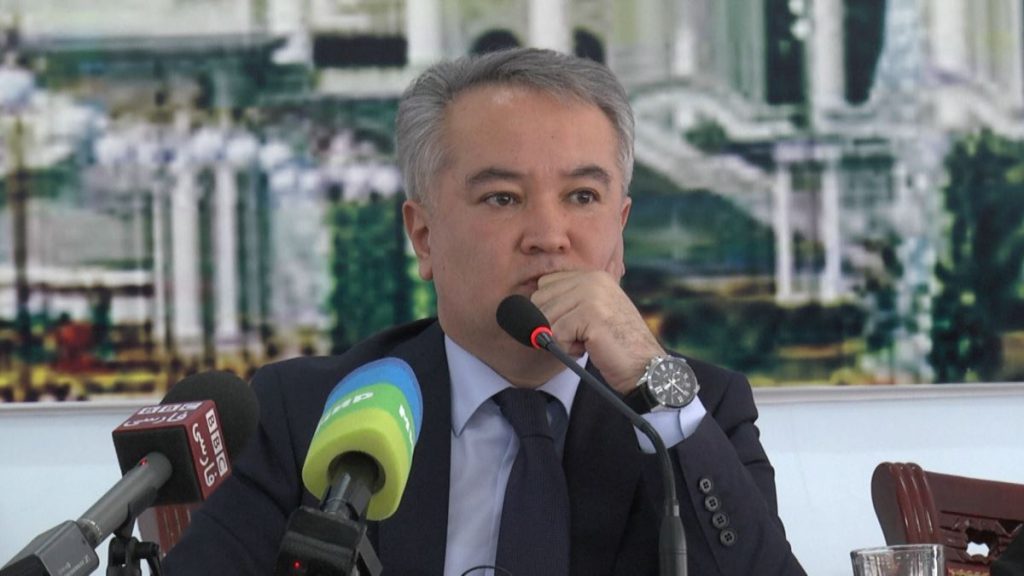 The Minister of Health and Social Protection of Tajikistan, Nasim Olimzoda, said on April 8 that there are currently more than 500 ventilators in the country and another 100 units are planned to be purchased with the World Bank funds.
The Minister also noted that today Tajikistan has a laboratory of a high international level, which employs eight virologists of the country who have been trained in Moscow to identify coronavirus.
Two days earlier, on April 6, the ministry said that the country's laboratories have 25 thousand tests for coronavirus and 3 thousand citizens have been tested.
The total number of beds in the country is 51 thousand beds, infectious diseases beds – almost 4 thousand. Given the risk of coronavirus outbreaks, another 1,150 beds are all set. In total, 3,150 new beds will be prepared for new cases.
Also, according to residents of Dushanbe, some departments now do not allow citizens without medical masks. Similar bans are introduced in some schools and mosques.
Kazakhstan: We finally built it
Kazakhstan has completed the construction of a hospital in Nur-Sultan for coronavirus patients. According to Aydin Rakhimbaev, chair of the board of directors of the BI Group, on his Facebook page, ventilators are now being installed in intensive care units. All the equipment will be installed soon and the hospital will be handed over to medical workers.
The construction of the same hospital in Almaty will be completed soon, according to reports. But in Shymkent, the construction of a similar facility was rejected and stopped. The city akimat said it would consider a new project for an infectious diseases hospital.
In early April, Kazakh health minister Yelzhan Birtanov shared his predictions about the duration of the epidemic in the country on his Facebook page. According to his calculations, the peak will be reach in the last months of spring – April-May, at least 3,500 people will suffer through the disease.
"3,920 beds have been already made available for the treatment of patients with coronavirus infection, as well as about 7,300 so-called "provisional" beds for patients with the suspected disease. Resuscitation departments are already available for the treatment of 180 severe cases, they are equipped with 170 ventilators and 38 extracorporeal membrane oxygenation (ECMO) machines," Birtanov said.
However, Birtanov admitted that more beds and hospitals will be needed because patients spend 3-4 weeks in a hospital in average. Therefore, it was decided to build prefabricated infectious diseases hospitals in the three large cities of Kazakhstan – Nur-Sultan, Almaty and Shymkent.
Doctors are reluctant to give interviews on the treatment of coronavirus. CABAR.asia has managed to talk with the TB specialist of the Nur-Sultan multidisciplinary infectious diseases hospital, Aliya Sarsenova, who told how patients with COVID-19 are being treated.
"We are following the WHO recommendations. One of the recovered patients received only one medication twice a day, but I cannot tell its name to you. It is an antiviral, a very strong medication that boosts the immune system. The country of origin is the United Kingdom. It is impossible to buy it in pharmacies, it is available only in hospitals," Sarsenova said.
On April 1, an updated protocol for the treatment of coronavirus infection approved by the Joint Commission on the Quality of Medical Services of the Ministry of Health appeared. It contains medications to be administered to patients with COVID-2019. This was announced by deputy minister of health of Kazakhstan, Kalamzhan Nadyrov, on his Facebook page.
"We keep abreast of this issue, and constantly study the recommendations of our colleagues around the world and regularly consult the experts of WHO, CDC and several other organisations. The revised document was based on the latest data from foreign experience of such countries as China, USA, Italy on the management and treatment of patients with coronavirus infection COVID-2019," Nadyrov said.
As for the coronavirus tests, the official website about the COVID-19 situation reported on April 3 that a network of diagnostic laboratories, with the support of two charity funds, launched a website for those who wanted to undergo free coronavirus tests.
The application form can be filled in here. Based on the results of the epidemiological sampling, the categories of citizens who will be tested first will be determined.
Also, domestically produced tests may appear in two months in Kazakhstan. Scientists of the National Centre for Biotechnology immediately reported two types of tests developed in domestic laboratories. As the deputy director of the centre, Yuri Skiba, told Sputnik Kazakhstan, a dangerous infection will be identified in five hours, the effectiveness of test kits was tested on the biomaterial of two thousand people.
From April 11, mass short-term tests for coronavirus have been held in Almaty and Nur-Sultan. However, the Ministry of Health warns their accuracy is far from 100%.
"This is a quick test. Blood taken from a finger is tested by a nurse. […] But what is the problem? Due to their inaccuracy, quick tests are not recommended by any country in the world for medical diagnosis. They are used for screening among risk groups. That is, in case of a positive result, we need to further test a patient," said Minister of Health Yelzhan Birtanov during a live broadcast.
In general, the medical community evaluates the measures taken by Kazakhstan to prevent coronavirus as timely and adequate. Bakhyt Tumenova, head of the Amansaulyk public foundation, said in an interview with CABAR.asia that China gave Kazakhstan a head start – almost 2 months – to really assess the risk of coronavirus infection and take urgent measures.
Kyrgyzstan: foreign assistance and inorganisation
On April 20, 15 medical workers from China arrived at Kyrgyzstan to share experience and to treat coronavirus specialists. According to the press service of the government, the Chinese medical staff will be providing assistance and sharing best practices and methods of treatment of patients.
Earlier, the Minister of Health Kosmosbek Cholponbaev reported that Kyrgyzstan doctors treat coronavirus infection according to the recommendations of the World Health Organisation (WHO).
"There is no vaccine against coronavirus yet. But there is a clinical treatment guide recommended by the World Health Organisation. It was used to develop a clinical treatment protocol, which was taught to the Kyrgyzstan medical workers," he said at a briefing.
According to the representative of the Ministry of Health, Ainura Akmatova, the treatment of the coronavirus carriers is different from patients in hospitals because asymptomatic carriers have good immune system and the disease is not harmful to their health.
"The treatment of the coronavirus infection is symptomatic as it is a viral infection. Treatment depends on the development of infection in humans. If the patient has concomitant diseases, it's these diseases that will be treated. If necessary, intensive care is conducted with the use of the ventilator," Akmatova said.
According to the Ministry of Health, Kyrgyzstan has 649 ventilators. But as the deputy head of the department, Nurbolot Usenbaev, said at a briefing recently, only 365 of them are in good order.
At a meeting of the operation headquarters on April 18, the head of the Ministry of Health Sabirzhan Abdikarimov said they are working at getting 63 ventilators from donor organisations.
Press service of the government announced it at the meeting.
According to Ainura Akmatova, today there are 1,623 beds available across the country, 715 beds are in reserve, including 215 beds in intensive care units (68 in reserve). Given the development of the epidemiological situation in the world, the localisation and number of these beds will be updated.
On April 6, the Minister of Health announced that Kyrgyzstan has 76 thousand coronavirus test kits, of which about 30 thousand were used. On the same day, the country received 5 thousand tests from Russia and 22.5 thousand from Belarus. Later on, PCR kits for 20 thousand tests arrived from Russia. Also, test kits are purchased by the state from Belarus.
Also, WHO delivers test kits to Kyrgyzstan. On April 17, 64 PCR test kits for more than 6.5 thousand coronavirus tests were delivered to the country. It was the third batch of the humanitarian aid from WHO. In February and March, 2,600 test kits were delivered to Kyrgyzstan.
On April 20, a private laboratory was reported to start conducting coronavirus tests. However, it costs at least two thousand som (25 dollars).
The pandemic came to Kyrgyzstan for the first time and it showed that national science is at a low level, and virology was not paid due attention, according to former health minister Talantbek Batyraliev. According to him, it is necessary to improve the scientific potential of the republic, especially the medical one, and integrate it with the world community.
"The pandemic showed all the details not only of diagnosis, but also of treatment. Therefore, in such cases, we should automatically set up brigades, emergency response hospitals. So, the algorithm, the chain reaction should have been developed in advance. Instead, we have disorganisation," Batyraliev said.
---
This article was prepared as part of the Giving Voice, Driving Change – from the Borderland to the Steppes Project.