According to the National Bank, every third Kazakhstani owes two thousand dollars each to banks in average, while the general amount of consumer loans is over 10 billion dollars.
---
Follow us on Facebook
---
Mother with many children residing in the village of Prigorodny near Nur-Sultan, Marina Zhatkanbaeva, cannot find her name on the list of persons subject to loan write-off for a few weeks in a row and cannot prove she has five children.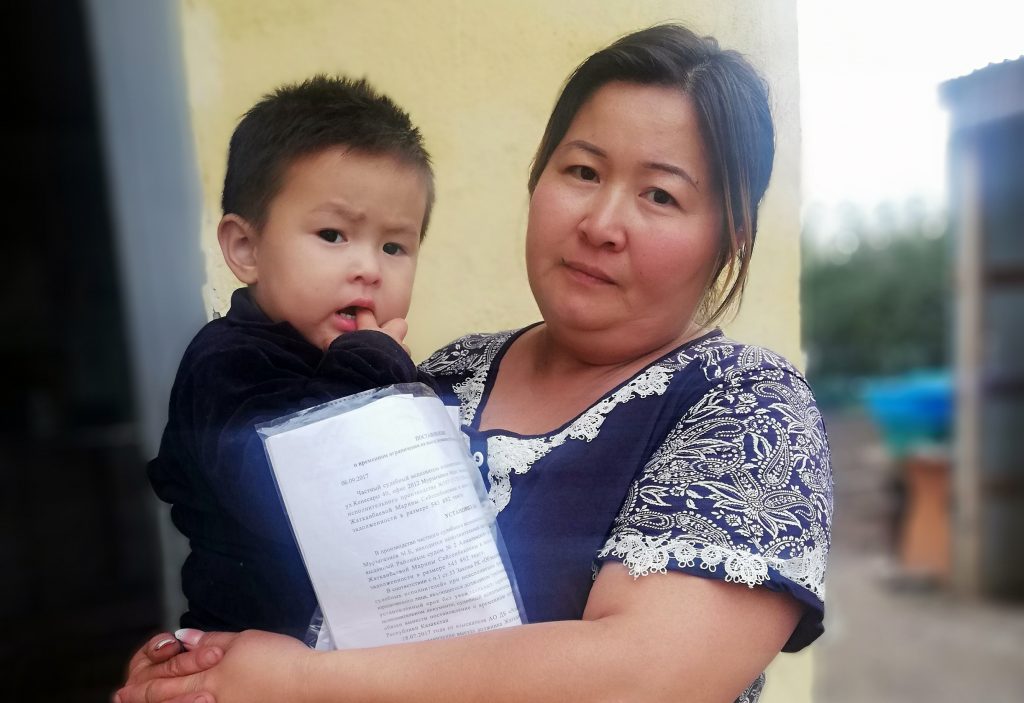 "I have to take my child and prove that I should be on that list since nine am till late at night. At first, I found out I didn't have two children and then I learned that I was unmarried. This is absurd! When I go to a bank, they say: go to the public service centre (TsON). When I go to TsON, they send me to akimat (city administration). When I go to akimat, they again send me to the bank. They told us we would have a 24/7 call centre 1411 and 141. However, I was trying to reach them for three days, but I failed. I am tired, I ask children to stay with their youngest sibling and they have to skip their lessons. Their work is not properly organised, they talk to us as we are dogs, they cannot explain anything to us normally," Zhatkanbaeva complained.
This is not a single case. Mother with many children Bakytgul Muratbekkyzy from the village of Koiandy, Akmola region, raises five children; her husband has the second disability category. Their family doesn't have stable salary; nevertheless, she couldn't get on the list of people subject to loan write-off.
"I don't understand why my children are not on the list. Although, I submitted all the documents to them. We could not reach the call centre at 111 to get information about loan write-off. I have neither energy nor time to go to the city every day. I've lost all hope," the woman said.
Resentful female residents were picketing near the ministry of labour and social protection. The reason was that the database was not ready because the information systems of government authorities had no relevant data about their status.
Let's write off loans
On June 26 this year, president of Kazakhstan Kassym-Zhomart Tokayev signed the decree on one-time write-off of unsecured consumer loans of Kazakhstanis with banks and microfinance organisations. The list contained:
Families with many children;
Families who receive benefits due to the death of breadwinner, who have children with disabilities;
Persons disabled since childhood aged above 18;
Recipients of state targeted social assistance;
Orphans and children without parental care who are under 29, who lost children before their full age.
Kazakhstan holds this large-scale loan amnesty for the first time and it has caused great public response. Before September 1, the troubled loan fund should transfer money to bank accounts and accounts of microfinance organisations. After that, debtors will receive notices of debt redemption.
However, the loan amount should not exceed three million tenge (7,724 dollars), and the state provides 300 thousand tenge (772.4 dollars) for redemption to every borrower. The National Bank was instructed to make a deal with financial organisations to have them write off fines and penalties imposed on such loans.
The ministry of finance has already counted that 105 billion tenge (270.34 million dollars) are needed to implement the presidential decree. Nearly 500 thousand vulnerable borrowers will be able to repay their principal amount of loan. If a borrower is late on loan payment for more than 90 days, and the loan is sold to debt collection agency, the amnesty will not apply.
Moreover, one person can have up to 2-3 loans, which don't exceed 3 million tenge (7,724 dollars). If the both spouses have loans, both loans will be paid off, in which case the limit will be 600 thousand tenge (1,545 dollars).
According to the press secretary of the Ministry of Labour and Social Protection of People of Kazakhstan, Aleksandr Kononets, 506,941 borrowers were put on the list, and 630,633 loans and microloans are being paid off.
"Citizens don't read information from official sources, but start spreading the word and creating the rush. Once there was a rumour that those who were on the list would have bad credit history. In fact, this is not true. No one would be "blacklisted" by banks. This is all written in the rules of loan write-off," Kononets said.
"Digital Kazakhstan"?
In 2017, the country's government presented the "Digital Kazakhstan" programme. The programme was designed to release the Kazakhstanis from receiving address certificates and other popular documents in hard copy. 300 billion tenge (772.4 million dollars) were spent on its implementation; however, the system is far from perfect. Errors in documents and database often envenom lives of people.
The resident of Karaganda, Natalia Shubichuk, replaced her lost ID card in 2018 and still she is trying to prove she is 44 years old, not 144.
The resident of Nur-Sultan, Maira Myrzagali, became a "male" due to the error in TsON. Her IIN (individual identification number) in the e-gov system identifies her as such.
And the resident of Uralsk, Igor Bakalkin, was put on the list of deceased in 2010. When he was officially dead, he was paying taxes, pension taxes and utilities, until the bank blocked his card one day.
According to the laws of Kazakhstan, IIN may not be changed. Another law should be passed to give a right to adjust the INN upon the written request of an individual. So far, those citizens who have errors in INN cannot travel abroad, receive benefits, or open bank cards. However, this draft law is not even on the agenda.
The members of Mazhilis call for making responsibility of officers of judicial bodies stricter for entering incorrect data into registers. They have even addressed the head of the agency on some occasions. However, the officials don't assume responsibility for errors and refer to automated systems.
"We are bringing up this issue to the government; however, relevant ministries do not cooperate with each other in this regard. As a result, citizens are the ones who suffer. 141 billion tenge (363 million dollars) were allocated for the implementation of the "Digital Kazakhstan" programme for 2018-2022. By the end of the year, we'll again have pending disbursements. I think we need to toughen up punishment to those who are guilty of putting wrong persons, who don't need "treats" from the state, on the list," deputy of mazhilis of parliament Omarkhan Oksikbaev said.
Loan conditions to be tightened
Lead expert of the analysis and technical support of advanced technologies department of the Ministry of Digital Development, Innovations and Aerospace Industry, Baurzhan Kozhakhmetov, said TsONs are full of people now; people who cannot find themselves on the lists go there to ask a question and file a complaint.
"People don't know where they should go and outburst at us. We only give information whether the person is on the list or not. Many children don't have validated passports, i.e. children born before 2008 are not shown in the database. Ministry of Labour and Social Protection is responsible for the database," Kozhakhmetov said.
The press service of the ministry said that very often the information systems of civil registry offices have no records of marriages or births. Therefore, those citizens who have loans are not registered as family members and the decree doesn't apply to them.
"Such families didn't apply to state authorities for benefits, so they are not registered in information systems. Moreover, information systems of the Ministry of Education have no information about four thousand orphans, as well as children without parental care, who are under 29 years old, who have lost parents before their full age. Now we make up additional lists according to the requests of citizens," the ministry added.
The loan amnesty has caused contradictory public reaction. Some were grateful and rejoiced, others resented because such populist measures could lead to a welfare mentality.
Saltanat Suleimenova is an entrepreneur; she owns a café and a canteen. She opened and developed her business independently and she had to sell her house and take a loan. Now her business is doing well, and she paid off all her loans. She thinks that spending budget money on loan amnesty is unreasonable because citizens must be able to plan their life, costs and be responsible for their decisions.
"Why should I work hard, while someone will have this gift? Am I to blame because I am not disabled and have a stable work? I think this is discrimination. If they paid off all loans, there will be no complaints. Are they ready to spend budget money on families with many children and low-income citizens as if there are no other problems in the country? The country of welfare recipients will have many problems," Suleimenova said.
According to the National Bank, every third Kazakhstani owes 900 thousand tenge (2,311 dollars) to banks in average, while many people have a few loans. The total amount of consumer loans is over 4 trillion tenge (10.273 billion dollars).
The head of the National Bank of the Republic of Kazakhstan Yerbolat Dosaev emphasised that the amnesty is a one-time campaign and they are not going to repeat it in future.
"The loan amnesty is a one-time campaign. It is designed to reduce the debt burden of Kazakhstanis and to rehabilitate the credit and financial system of Kazakhstan. In the long term, the conditions of consumer loan granting and requirements to borrowers will be toughened," Dosaev said.
This norm is provided for in the draft law on regulation and development of financial market and microfinance activity, which was already passed by the Senate of the Parliament. Now all microfinance organisations will have database with credit history of citizens, assess their financial solvency, and provide information about their activity to the loan office. When the borrower applies to a microfinance organisation, they will have to prove information about their income.
However, the member of mazhilis Daniya Yespaeva thinks that this one-time campaign does not guarantee that the number of non-payers won't reach that critical level again. Then, the campaign will need to be repeated to reduce social tension because the precedent was once made.
"Our citizens will have time to take five more loans and not to repay them, but now they will not ask but demand the state to write off hundreds of billions of their debts. Of course, the state must provide assistance to citizens who are in times of need. However, those citizens who despite all difficulties repaid their loans properly and sometimes denied themselves every necessary seem to be in an unequal situation," Yespaeva said.
Главное фото: tengrinews.kz
---
Данный материал подготовлен в рамках проекта IWPR «Giving Voice, Driving Change — from the Borderland to the Steppes Project».