Human rights activists of Kyrgyzstan raise the issue of quality investigation regarding citizens charged with extremism.
---
Follow us on Facebook!
---
The internal affairs bodies deny the facts of framed-up criminal cases saying they detain only persons who have been on file with the police for a long time and remain under police supervision for committed extremist crimes. The State Penitentiary Service (GSIN) said the number of prisoners convicted of religious and extremist crimes has decreased in the republic. Last year, Human Rights Watch recommended reviewing judgements awarded to persons convicted of religious extremism.
Double hooked entrepreneur
A 49-year-old resident of Osh, private entrepreneur Khamidilla Abdullaev, becomes the suspect on the case of possession of extremist materials for the second time. The officers of the extremism department of the Directorate for Internal Affairs of Osh found religious leaflets in his car on September 24. Khamidilla Abdullaev claimed he has nothing to do with these leaflets and said they were dropped by police officers themselves. According to him, police officers showed him the warrant to search his house, but failed to show the similar warrant to search his car. They found nothing in his house, but found 4 leaflets and 2 CDs in his car. Khamidilla Abdullaev confessed he was forced to sign the search report and write an explanatory report:
– They found nothing in my house during the search. They started searching my car outside. When I looked inside, nothing was there. I asked them to show me the warrant to search my car. As there was nothing in the car, I allowed them to search it. Then one of the officers opened the rear door and quickly dropped some papers into my car with his right hand. The video was shot afterwards. I told him directly, "guys, what are you doing? There was nothing in the car." But they didn't listen to me and said they found these papers and a compact disc in the car. I played the CD. There were only azan and Quran. They made a search protocol and forced me to sign it. Also, I wrote an explanatory report that "leaflets and a CD" were found inside my car."
Entrepreneur Khamidilla Abdullaev filed a petition to the Osh City Prosecution Office regarding the fabricated criminal case against him and the investigation of actions of police officers who allegedly dropped leaflets to him. In his petition, he noted that during the previous search in his house, he was at a loss and was forced to sign the search report and write an explanatory report. He added that he wrote at the dictation of police officers and cannot even remember what he wrote. He remains at large before the forensic religious report.
The lawyer of the businessman, Khusanbai Saliev, confirmed the petition to the Osh City Prosecution Office regarding the pre-trial proceedings based on false reasons:
– My client had earlier filed a complaint to the Osh City Prosecution Office. He came there and said the leaflets were dropped to him and he wasn't a member of any proscribed religious organisation and asked us to provide him legal support. We provided legal support to him and agreed to defend his rights. So far, we don't have the reply of the prosecution office regarding our complaint. The supervision agency must conduct the investigation and provide its results to us. We are waiting for them.
Press secretary of the Osh City Police Zamir Sydykov said the house of Khamidilla Abdullaev was searched legally. According to him, extremist literature had been found previously in possession of another citizen. During the interrogation, he said he received these materials from Khamidilla Abdullaev. It was the reason for the search in the house of the entrepreneur.
– During the operational actions, a resident of Osh was detained previously for possession of extremist literature, who witnessed that he had taken these materials from a citizen named Khamidilla. This was the lawful ground for the search in the house of Khamidilla Abdullaev, born in 1972, on September 24. We found 2 CDs and a religious leaflet in his car. The things we found were sent to the forensic expert service to get a religious report. If the report finds that "these materials are aimed at inciting religious hatred," the course of the investigation can also change. This citizen is still at large.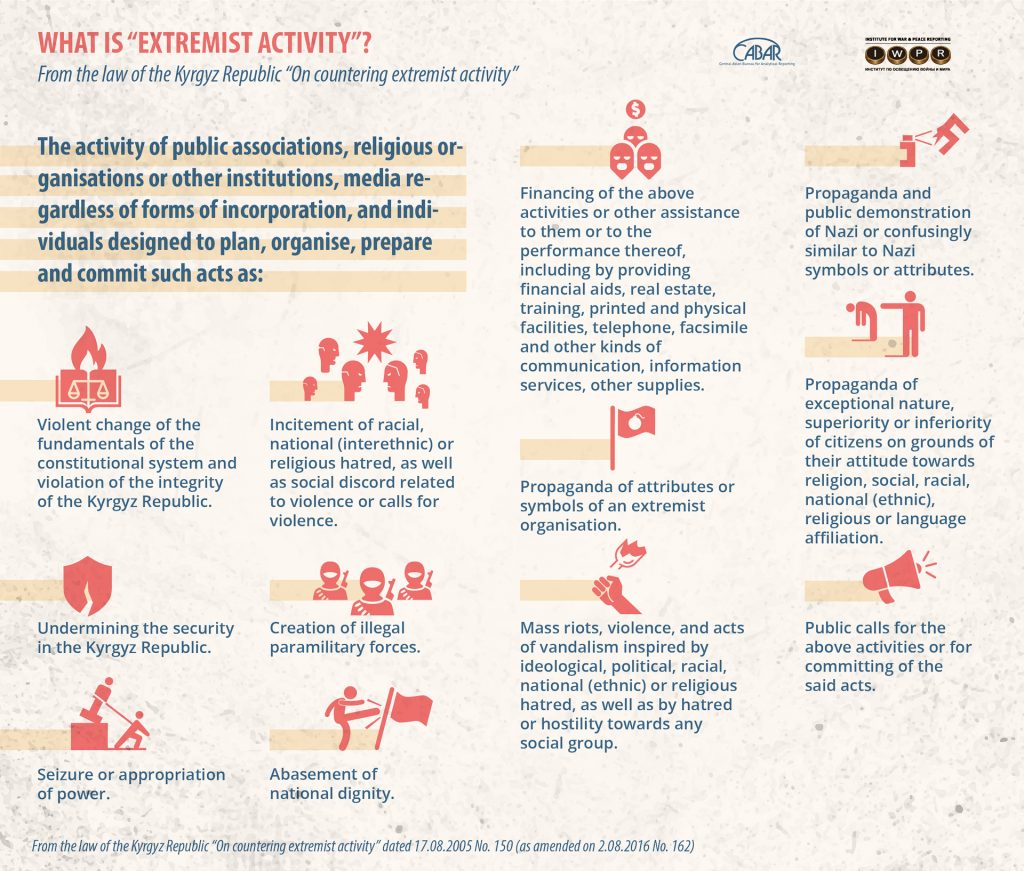 An attempt to escape responsibility or a fabricated charge?
Press secretary of the Osh City Police Zamir Sydykov also added that they had found previously similar leaflets at Khamidilla Abdullaev. According to him, in January 2015, during the search in the entrepreneur's house, a few leaflets were found and he was sentenced to 3 years in the penal colony. His sentence is not yet served in full.
After the second prosecution for possessing religious leaflets, Khamidilla Abdullaev sought legal assistance from human rights defenders referring to unproven charges. However, Zamir Sydykov thinks these actions of the entrepreneur are an attempt to escape responsibility:
– Khamidilla Abdullaev was convicted under article "incitement of religious hatred" back in 2015. He was sentenced to serve his term in the penal colony. Since 2016, he has been under supervision of authorised officers of the special directorate of internal affairs of Osh. We take his accusations of police officers of illegal detention based on fabricated evidences as an attempt to escape responsibility for his unlawful acts. We often encounter cases when police officers are accused of illegal detention or fabricated charges.
Nevertheless, Khamidilla Abdullaev claims that both times he was hooked by the police and the first time the leaflets were dropped into his house. He added that he was engaged in trade and earns enough to feed his family and is not a member of any banned religious organisation:
– I was in a similar situation before… Then police officers found the leaflets in a book. I didn't see how they inserted them into the book. I knew nothing. Then they threatened me to "fabricate" charges against my children if I don't confess the leaflets belonged to me. So I had nothing but to agree to take the responsibility as I worried about my children. But I am not an extremist. I am an ordinary citizen of Kyrgyzstan. Now I have a difficult financial and moral situation. My lawyer and I wrote a petition to the prosecution office for the investigation so that I can prove I'm not guilty. We demanded that the supervision body should conduct examination of my fingerprints on the leaflets they seized. However, this examination was not conducted so far. I am just asking them to investigate my case fairly and within law.
According to the Criminal Code of the Kyrgyz Republic, a person convicted of possession, distribution of extremist leaflets for the first time may be punished with a warning, monetary penalty or placed to a penal colony. If a person is convicted of the same offence under the Criminal Code of the Kyrgyz Republic for the second time, they may be imprisoned to 3 to 10 years.
Risks of "spinning the web"
According to human rights defender Aziza Abdirasulova, many of suspects in possession and distribution of extremist materials do not have any reason to hold them liable:
– Our human rights organisation is investigating over 30 of such cases. Many of such cases are fabricated. About 90 per cent of extremism cases do not involve criminal liability. For example, there are citizens who are interrogated only for accidental "like" of any material in social media or for sharing. Or, extremist materials sent via WhatsApp or other messengers and stored were found in their phones. These people didn't even understand the content of these materials. And the police often initiate cases against such people instead of finding those who deliberately sends out extremist materials. There are people who claim that police officers drop forbidden leaflets into their houses and they saw them doing it. Sometimes, such cases come to trial. Also, it should be emphasised that we don't have the established procedure of forensic religious examination. Therefore, the republic has many judgements based on incomplete reports, without detailed study of all aspects of these cases and without a proper evidentiary basis. There are cases when wrongfully convicted persons get in prison and become radical there.
Inadequate examination?
Kyrgyzstan needs to create a professional independent foreign religious centre that will meet international standards. Currently, a variety of problems arise due to the lack of such centre that would give independent linguistic assessment to religious radical extremist texts, according to human rights defenders and experts.
Analyst Nurlan Orozbaev thinks it is necessary to create a special centre made of professional theologians, lawyers and linguists:
– The current situation with forensic religious examination is miserable. Court judgements are based only on reports issued by 1-2 scholars of the Academy of Sciences and expert theologians of the Kyrgyz Russian Slavonic University. Judges have to take decisions based on incomplete linguistic, legal or religious examination, based on experts' personal interpretation of any given material. The content of materials is examined only to find out the opinion or views in relation to the authorities, the country's constitutional system, and based on such examination, they decide if the material may be deemed extremist or not. This is wrong. This is not enough to determine the real extremist thinking. Unfortunately, in practice we see that similar studies need to be based on comprehensive and full analysis.
Director of the State Committee for Religious Affairs Zaiyrbek Ergeshov said the agency has specialists who can analyse the contents of religious literature, but, according to him, they don't have a right to conduct forensic religious examination. He added that the state committee was deprived of this right early this year:
– We have a department, whose specialists may conduct religious examination and cooperate with religious organisations. But we can examine only religious literature. And the State Forensic Examination Service of the government may conduct forensic religious examination. Our experts do not carry out forensic religious examinations since January 2019.
Number of prisoners decreased
There are 434 persons convicted of extremism and terrorism in the prisons of Kyrgyzstan as of October 1, 2019. A separate building was build specifically for such prisoners last year in the village of Moldovanovka, on the outskirts of Bishkek. All prisoners convicted of terrorism and extremist were transferred there from other colonies. According to the State Penitentiary Service, nearly 600 persons were charged with similar offences and served their sentences as of early 2019. After the new codes based on democratisation and humanisation principles took effect, many prisoners convicted of petty crimes had their sentences commuted.
Press secretary of the State Penitentiary Service Eleonora Sabatarova noted that many cases were reviewed and the number of those brought to trial decreased:
– Currently, the number of prisoners charged with extremism decreased significantly. According to new codes, all probationers or those sentenced to penal colonies were transferred to the probation control institute of the ministry of justice. There are those charged with extremism among them. Over 15 thousand of prisoners were serving in the penal system previously. Now, we have about 10 thousand, and the rest were transferred to the ministry of justice. They will be on probation there and their term will be commuted depending on their behaviour. This is done as part of humanisation of the Criminal Code.
In 2018, Human Rights Watch issued a report on violation of international standards of investigation and prosecution of citizens for possessing and distributing extremist materials in the territory of Kyrgyzstan.
The report reads that the majority of criminal cases didn't contain open calls for violence. It also noted that almost half of examined materials contained elements of calling for action and aimed at religious propaganda of certain actions. Many of confiscated printed material contained calls for forming the caliphate, but no violent measures were approved to reach it. They all referred to the religious organisation Hizb ut-Tahrir. As a result, the report of the international organisation emphasised that in Kyrgyzstan, like in other Central Asian states, prosecution for possessing and distributing extremist materials is deemed as part of repressive policy under the slogan of fight against religious extremism.
Indicator of extremist crimes
However, the State Penitentiary Service didn't provide exact information about the number of criminal cases reviewed under new codes and the number of persons who had their sentences commuted, or the number of persons released.
According to the information stated by the deputy head of the State National Security Committee, Mirlan Turgunbekov, at the parliament session, 16 members of international terrorist and extremist groups were detained in 10 months of 2019. Among them, 11 persons are suspected of terrorism, the rest five of religious extremism, and pre-trial procedures were initiated in these cases.
Deputy Ruslan Kazakbaev wondered if they had stable links to religious extremist organisations:
– How many cases were initiated in 2018-19 on charges of extremism and terrorism? How many persons among them had real links to religious extremists? Were any cases initiated against religious organisations that violated the religious freedom law? Were any facts of their foreign financing revealed? If there are such facts, we need to know in detail those who finance them.
According to the Ministry of Internal Affairs of the Kyrgyz Republic, crimes related to possession of extremist literature, its distribution or its transfer via internet can be divided into a few categories. Therefore, the cases of first offenders or persons accidentally involved in such offences are being registered with the United Register of Crimes and Offences (ERPP). The actions of those persons who have stable links to extremist groups are deemed a crime. Deputy minister of internal affairs Mirlan Kanimetov provided the following explanation in this regard:
– In 10 months of 2019, 399 cases related to extremism were registered with the United Register of Crimes and Offences (ERPP). According to new codes, such actions are now deemed as offences. Previously, we used to initiate criminal cases in such situations. Now, pre-trial procedures are initiated on the above cases. Kyrgyzstan has banned over 20 religious associations that are recognised extremist and terrorist organisations. Campaigns, calls and printed matter of these organisations are deemed as extremist literature.
Since 2003, 21 religious associations in Kyrgyzstan were found terroristic and extremist organisations by court decision and their activities are banned in the country. They are Jabhat al-Nusra, Jaysh al-Mahdi, Ansarullah, Hizb ut-Tahrir al-Islami, Jihad Group, The Eastern Turkistan Islamic Movement, and others. All materials related to these organisations are listed as religious extremist literature banned by court.
The investigation was prepared in the framework of joint cooperation between IWPR Central Asia and Radio Azattyk. The original version of this article has been published in Kyrgyz at Azattyk's website; it can be find by this link.
---
This publication was produced under IWPR project «Forging links and raising voices to combat radicalization in Central Asia».