Young and experienced experts from the four regional countries discussed the present and future of the expert community, potentials of cooperation at the regional level.
---
"Central Asian Expert ReForum: Pointers to the Future" was held in Almaty on November 28-29.
The participants were experts from state and independent think-tanks of Kazakhstan, Kyrgyzstan, Tajikistan and Uzbekistan, as well as young analysts of the CABAR.asia School of Analytics. Besides, representatives of foreign think-tanks shared their experience – senior analyst for Russia and CIS of Oxford Analytica (United Kingdom) and expert from Russia, advisor of the Carnegie Moscow Centre.
The event was organised by the IWPR representative office in Central Asia and its regional analytic platform CABAR.asia.
In his welcome speech, Abakhon Sultonazarov, regional director of IWPR in Central Asia, noted that the expert community in CA states needs support, and IWPR provides assistance in this regard via its analytic platform CABAR.asia by giving an opportunity for publishing their works, by organising round tables and similar regional events.
"In addition to training and publications, our priority is the regional integration of experts so that young and experienced specialists of all countries could meet often, share their ideas, opinions and share their experience. This forum is one of such events in this direction," Abakhon Sultonazarov said.
"Central Asian Expert ReForum: Pointers to the Future" was organised with the support of the Norwegian Foreign Ministry and the embassy of the United Kingdom in Kyrgyzstan.
The United Kingdom Ambassador to the Kyrgyz Republic, Charles Garrett, expressed his hope that the event would give impetus to the development of expert community and strengthening of cooperation at the regional level.
In the age of globalisation, the build-up of cooperation between neighbours has very important meaning that has impact on the life of every citizen of these countries. In this context, the role of international and regional experts is very important, the British ambassador emphasised in his speech.
Work of national research institutes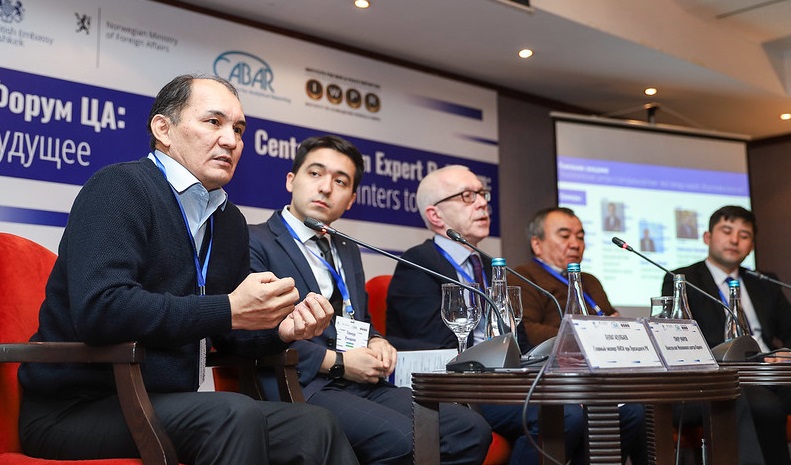 On the first day of the forum, experts discussed key problems that are faced by the expert community in the region and options of their solution at the panel session "Think-tanks in CA – a bridge between science, society and power."
Representatives of the Kazakhstan Institute of Strategic Studies (KISI) at the president of the Republic of Kazakhstan, National Institute of Strategic Studies of the government of the Kyrgyz Republic, Centre of Strategic Studies at the president of the Republic of Tajikistan, the expert in Uzbekistan delivered their reports on the situation in every country. John McLeod, senior analyst for Russia and CIS of the British analysis firm Oxford Analytica, shared his foreign experience.
The speakers noted that their state bodies need quality analysis of various issues. The history of state think-tanks in Central Asia has been almost identical – they have been created following the sovereignty in order to provide analysis to the president, government and other state bodies. They regularly provide information analysis about current events, hold discussions with staff and independent experts, researchers, and from time to time work over large-scale and detailed researches on urgent issues.
Seiitzhan Apyshev, research officer of NISI of Kyrgyzstan, said his think-tank works under the Government of the Kyrgyz Republic and was established in 2010 on the basis of three state analysis organisations, which were operating since the period of sovereignty. He said that in addition to traditional analytic support of the government, organisation of discussions and establishment of international relations, NISI also carries out its unique researches every year.
Every year, NISI calculates the people's trust index and sends out its results to key officials and state bodies. It also measures corruption and carries out detailed researches on certain key issues. For example, an electronic database of adoptions was created following the analysis of adoption practices in the Kyrgyz Republic.
Maruf Abdudzhabborov, deputy chief of the Office for Foreign Policy Analysis and Forecasting of the Centre of Strategic Studies at the president of Tajikistan said that the centre he represented was created in the period of getting independence and end of the civil war, when there was a need for experts, who could analyse the reasons and consequences of the events, provide expert assistance.
He said that despite the fact that think-tanks are a new thing for Tajikistan, nevertheless, the country has already shaped similar entities. They include research entities, analytic centres of agencies, private centres and independent experts and researchers. Thus, they all try to convey their ideas and opinions using various methods: via the media, round tables, analytical notes and personal meetings.
According to Abdudzhabborov, CA countries have a range of public and independent analytic centres and some association of think-tanks must be established to improve cooperation, provide mutual support and protect the interests of these entities.
Temur Umarov, an expert for Uzbekistan, advisor of the Carnegie Moscow Centre, in his speech said that in the age of fake news and post-truth that affects Central Asia, the role of think-tanks gets more significant in making the stream of information clearer because their role is to explain and show the difference between objective and fake messages to public bodies and the public. On the other hand, he voiced the problem of Uzbekistan when experts trying to convey true or critical information to the authorities may fall from grace and may face safety risks.
Parallel sessions
Further, forum participants worked in four parallel sessions, where they discussed successful cases of impact of expert recommendations/opinions on decision-makers. In each of these sessions, speakers provided basic information, issues and their recommendations. After discussions, all participants together developed a presentation on how to improve the impact on decision-makers in each of the said directions.
The first topic was dedicated to socio-political aspects, the second one to economic issues, the third one to regional interaction in Central Asia, the fourth one to media and technologies. All these topics were discussed at the regional level and each regional country's experience was taken into account during discussion due to the experts of the four countries.
By results of the parallel sessions, general round-table discussion was organised and responsible speakers provided their recommendations regarding each of these four directions.
The recommendations will be included into a special publication to be prepared by results of the forum.
Think-tanks in Central Asia: Opinion of Independent Experts
During the round table, moderators of the four sessions briefly described the situation of the expert community in their countries.
According to Adil Kaukenov, director of the Centre of Chinese Studies "China Center", Kazakhstan took great interest in the 90s to analytical products, which gradually declined. The problem is that the final user of such analysis remains unclear; there are no visible links between expert opinions and decisions made by bodies and persons concerned.
According to him, in Kazakhstan, experts and think-tanks have limited access to key decision-makers due to bureaucratic problems. Moreover, decision-makers are not always willing to take account of analytical papers.
Speaking about Kyrgyzstan, Anar Musabaeva, independent researcher and analyst, said that despite the fact that this issue has been under discussion for the last 10-15 years, Kyrgyzstan represented by its authorities doesn't still need serious analysis. Public bodies are not ready to place orders and pay for such kind of work; the majority of analytical papers are funded by donors.
The country does not have large state analysis organisations that would provide analytical support to the state. We have a small NISI, a small group of experts in the presidential office and other public entities, that provide their expert opinion.
Speaking about independent think-tanks, there are quite few of them and the majority of them are personal centres of prominent experts.
After the events of April 7, 2010, experts have had more opportunities to discuss, hold discussions, discourse. However, as often happens, a few years later the available space has diminished and public bodies, including security agencies, have become engaged. Experts turn to have problems with the freedom of expression.
Speaking about the degree of impact of think-tanks on public bodies, the Kyrgyz Republic, just like all other Central Asian states, has its specific issues. Unlike our neighbours, we don't have any problems with accessing officials and state bodies. The question is how much impact they have on the decision-making process. There are spheres where they have direct impact – these are regions, at the level of local governments. As to large-scale impact, for example, on foreign policy, we have few such cases. In my opinion, this is due to the small state syndrome, as it doesn't have any impact on foreign policy.
Among positive things: there is a close relation between the expert and civil communities. It gives an opportunity to work together and makes the authorities to listen sometimes to the opinion of the civil community and citizens.
An Uzbekistan-based expert, Yuly Yusupov, director of the Centre of Economic Development Promotion (Tashkent), told about the analysis situation in his country.
Until 2017, there was a wall between the state and the society – once we woke up, we learned that the government made a decision for us. This approach affected both the demand and financing of the expert analysis services in the country.
However, the situation changed in 2017: we don't have traditional democratic institutes still, but we do have community liaison offices, where citizens can file their complaints and recommendations regarding the improvement of various social issues at a local level, and these problems are being solved.
The channel of influence on the authorities started its operation – electronic media and social media. The authorities allowed writing on any topic, and follow the voice of people. There are cases when disputable initiatives were removed and various legislative norms were changed due to publications in online media or posts on social media. These mechanisms do work and experts use them.
Speaking of the media, Ermek Baisalov, editor of analytical materials of CABAR.asia, noted the ambiguous role of the media in the work of expert community and impact on decision-making by state bodies and officials concerned. On the one hand, there is a range of examples in Central Asia, when media plays a positive role in decision-making or vice versa causes discussion of socially important issues. On the other hand, there are a lot of examples when media focuses public attention on the events and news that are useless for the public, while their resources and time could focus on really important issues. However, it is quite obvious that the media in Central Asia is not the so-called "fourth estate" in its traditional meaning just because the previous three branches of government may not be deemed the government institution in the proper sense of the word.
At the same time, it should be noted that media is not just mass media. In the age of social media, certain bloggers and popular users of various platforms can influence decisions made by state bodies and officials on certain issues and topics. This group of influencers in various spheres is available in every state of Central Asia and the authorities watch their work, and sometimes even seek their assistance. The audience and level of influence of such persons can sometimes be even stronger than the work of editorial offices of various formats. However, it's obvious that decision-makers in Central Asia often tend to take into account publications in the media that contain public opinion and expert opinion only when they are to their advantage only.
Two master classes were held on Day one: in the first one, Saviya Khasanova, a trainer in analysis and visualisation, described visualisation in analytics to experts, how to tell simply about complicated things, how to create online infographics, when it should be used, and which format is most preferable. In the second master class, Lenur Yunusov, international media trainer and editor of the Russian version of Inc. American entrepreneurship magazine, told about the "repacking" of analytical materials, how to convey a complicated and complex topic in an understandable and easy format.
How a private think-tank works in the United Kingdom
The second day of the regional expert forum was opened by the special guest from the United Kingdom – senior analyst for Russia and CIS, Oxford Analytica British analytical organisation, John McLeod. He told about the work of his think-tank and in general about the demand for analytical products in western countries.
The majority of materials of Oxford Analytica are paid. In his opinion, despite the variety of respectable resources, where readers can learn about situation in various countries and opinions of various experts at no charge, there is a certain audience that needs quality analysis and it is ready to pay for quality, reputation of the think-tank, which is the highest priority of the latter.
For example, the clients of his think-tank are various international and financial organisations, investment groups that want to know, for some reason or another, what is going on in a certain country or region, the reasons thereof in order to know the future perspective. Paid content means that analysis should be as convenient and comprehensible as possible, so Oxford Analytica pay much attention to the creation of various illustrations, infographics, yet no one can influence its opinion and the writing team is free to write its opinion.
In addition to daily analysis, Oxford Analytica holds researches, makes special publications and provides consulting services on demand.
As the income of Oxford Analytica is made of sales of analytical products, it pays much attention to marketing – customer acquisition all over the world. It means that private analytical organisations must not only produce quality analysis, but also sell it.
Day two was totally dedicated to the participants of the CABAR.asia School of Analytics, the IWPR Central Asia project dedicated to the support and development of young experts and analysts in Central Asia.
As part of this project, IWPR Central Asia has organised the CABAR.asia School of Analytics for the second year in a row. Over 50 analysts of Kazakhstan, Kyrgyzstan, Tajikistan, Turkmenistan and Uzbekistan have been trained in this school. After training, they publish their analytical articles on the CABAR.asia platform, take part in country and regional discussions, and meet "offline" from time to time at IWPR events.
On day two, the alumni of the first and second classes of CABAR.asia School of Analytics organised various games and master classes related to development of analytics and regional integration.
Thus, the alumni of Nur-Sultan, Naylia Almukhamedova, researcher and master of economics, and Zhaslan Nurbaev, candidate of historical sciences, assistant professor of the chair of regional studies of ENU, held an exciting quest "A journey to digital analysis", during which the teams performed tasks, learned additional information about analysis tools.
Participants of the analytical programme of Kyrgyzstan, Anna Zubenko, analyst and researcher, and Kanzada Zaiyrbekova, specialist in education, held the mind game "Where's logic?" intended to develop thinking.
Uzbekistan-based Yuri Sarukhanyan, specialist in international relations, and Lira Zainilova, specialist in communications, held equally interesting and useful master class "Central Asianisation of experts through the prism of historical symbols." During it, forum participants divided by countries and determined the most significant politicians, historical figures, events and cultural figures during lively discussions. The following stage was to determine common symbols in the said direction at the Central Asian level.
At the end of the forum, Tajikistan-based analysts, Aziz Timurov, head of the Centre of Free Market of Tajikistan, and Guldastasho Alibakhshov, researcher, held an awareness-raising master class "Black swans and systems thinking in analysis."
By results of the expert forum, IWPR Central Asia and CABAR.asia will develop an analytical publication that will be based on key ideas, issues and recommendations of experts related to the development of expert community in Central Asia and improvement of cooperation at the regional level.
Please follow this link for participants' feedback
Photo gallery of the Central Asian Expert ReForum: Pointers to the Future