The trans-Caspian transport route is an opportunity for Kazakhstan and Azerbaijan to reduce the oil dependence of their economies using freight transportation from China to Europe. These countries feel optimistic about it, however, there's an opinion that this route cannot compete with other routes, even longer ones.
Follow us on LinkedIn
For many years, the main source of budget revenues in Kazakhstan and Azerbaijan have been oil proceeds. But in 2015 these countries became leaders by the level of national currency devaluation in the world after the fall in black gold prices. Back then they understood that oil proceeds are good, but unreliable.
One of directions that can reduce oil dependence of the economy is freight transportation. The volume of freight transportation between China and Europe now amounts to dozens of millions of tonnes and increasing every year, while the route via Central Asia and Caucasus offers great opportunities in the transport sector for Kazakhstan and Azerbaijan. Especially, in terms of Chinese initiatives to revive the Great Silk Road. Understanding this, both states have been paying great attention to the modernisation of transport infrastructure in recent years. In particular, last year Azerbaijan launched the new railway Baku-Tbilisi-Qars, which for the first time connected Central Asia with Europe via Caucasus and Turkey by rail. This year, the international commercial seaport has been put into operation in the village of Alyat, and also new trunk highways have been built, modern rail cars, tankers and ferryboats have been purchased. Similar operations are underway in Kazakhstan, where development of transport sector is one of the key priorities in the national development strategy until 2050 declared by its eternal leader Nursultan Nazarbayev.
One route, two routes …
Today, there are a few routes ensuring freight transportation from China to Europe. The cheapest one is via ocean, which accounts for nearly 90 per cent of freight. However, this route is the longest one. Transportation takes around 45 days and even more in case of storms, which are frequent along the route.
Another route connecting China with Europe runs via Central Asia, Russia and Belarus. It is a successful route that transports large volumes of freight, given that Kazakhstan, Russia and Belarus are the members of the Eurasian Union and have tax and duty free regime of freight transportation. There's another route via Kazakhstan, Turkmenistan, Iran and Turkey, the so-called Southern Corridor. However, this route has many problems with rates, border crossing, and many companies have stopped working there due to the sanctions against Iran.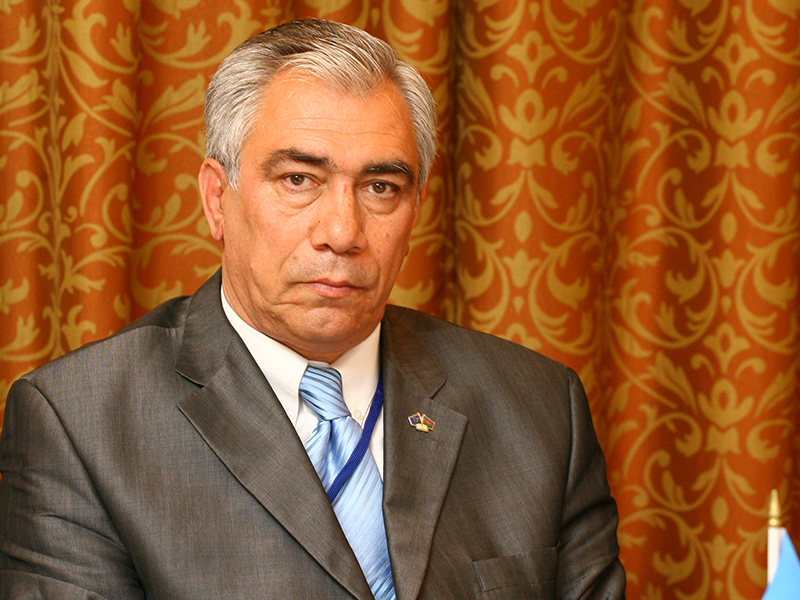 In 2017, railway and sea carriers of Azerbaijan, Kazakhstan and Georgia established the "Trans-Caspian International Transport Route" association to coordinate their efforts in directing transhipments to Central Asia-Caucasus. Later on, representatives of Turkey, Ukraine, China, Romania and Poland have joined this initiative. The project is implemented within the framework of the Europe-Caucasus-Asia transport programme (TRACECA), which has been operating for 20 years.
In his comment for CABAR.asia, the national secretary of Azerbaijan in the Intergovernmental Commission TRACECA,
Akif Mustafaev
, said that the key advantage of the Europe-Caucasus-Asia transport corridor (East-West) was that it's the shortest route from Asia to Europe, which takes two weeks maximum. "It has favourable weather conditions, and it's the safest route, which is not threatened by terrorist attacks or any emergencies," Mustafaev said.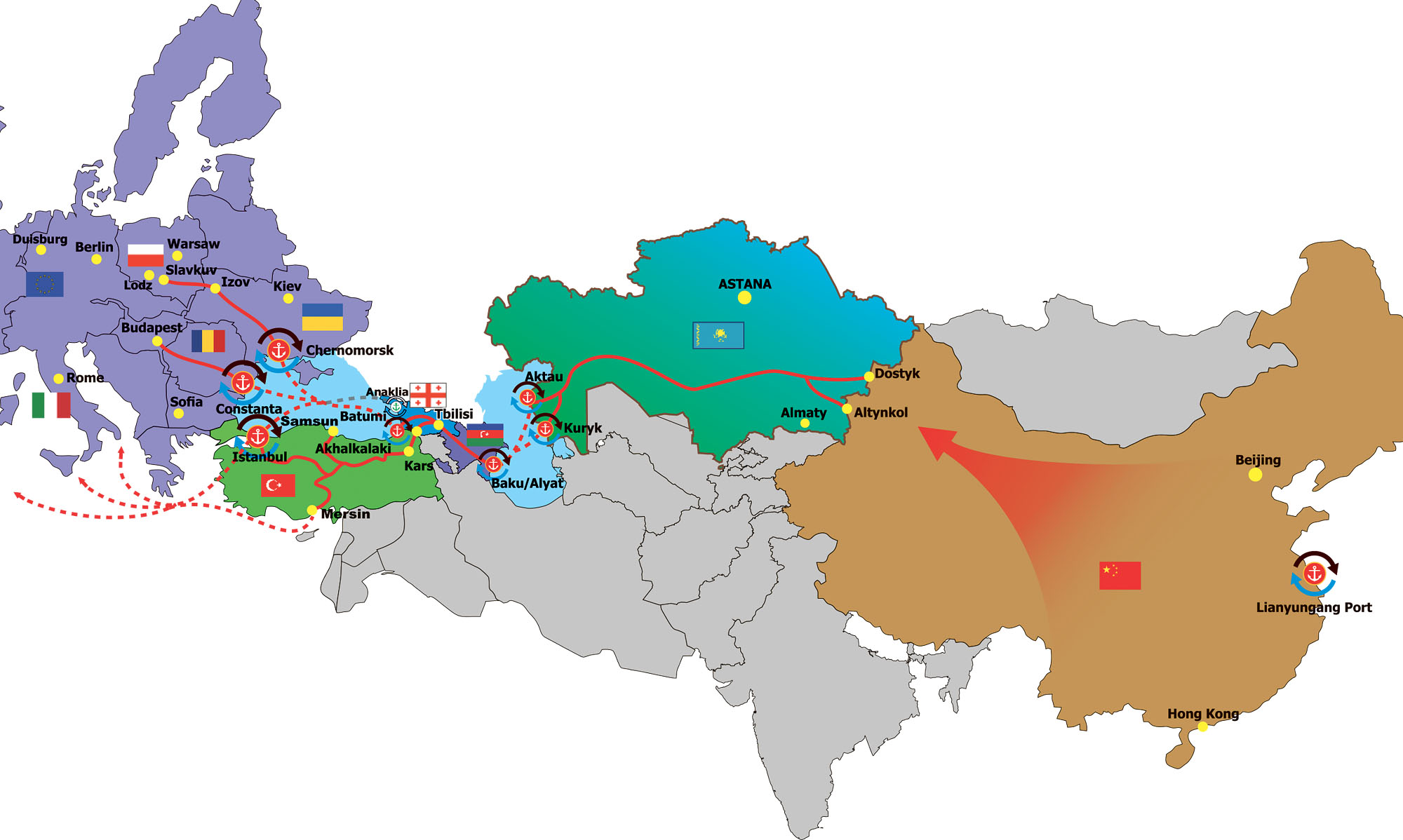 According to the expert of Kazakhstani Institute for System Researches "Parasat" and CABAR.asia School of Analytics alumna, Nailya Almukhamedova, other advantages of this route are friendly foreign political relations between member states, and also growing opportunities for mutual trade.
Moreover, in late 2017, Afghanistan, Turkmenistan, Azerbaijan, Georgia and Turkey signed the agreement on the creation of the new corridor Lapis Lazuli, intended to transport precious mineral lapis lazuli mined in Afghanistan. This project is supported by the United States, which plan to invest into the transport infrastructure of Afghanistan. This route coincides mainly with the Trans-Caspian transport corridor, i.e. freight will be transported not only from China, but also from Afghanistan.
Optimism and prospects
The Trans-Caspian International Transport Route international association feel very optimistic about the route. In 2017, the volume of transportation was 200 containers, but this amount will be increased up to 15 thousand by the end of the year. And the plan for 2019 is even more ambitious – to increase the number 10 times – up to 180 thousand containers.
According to Nailya Almukhamedova, this route gives an opportunity to Kazakhstan to reach new markets and transport their food and industrial products – grain, metals, coal, building supplies, locomotives, etc. – to Azerbaijan, Georgia, Turkey and other countries. Azerbaijan, in turn, will transport sugar, confectionery products, ferrous metals, textile goods to Kazakhstan via this route.
"We are already working to expand the commodity base of export goods transported via this route – project member states already make agreements to deepen commercial relations, set effective all-inclusive rates of container transportation, preferential tariffs for transportation of heavy oil, gas oil, grain," Almukhamedova said.
"No transit"
However, there are some problems that prevent from making the maximum use of the Trans-Caspian transport route. They are: synchronisation of activities of shippers, automation and digitisation of corridor control processes, shift from narrow to wide track.
According to Akif Mustafaev, all these issues are on the agenda and in recent months they have worked hard to simplify the border crossing procedure, to introduce preliminary electronic declaration and digital technology. If these issues are solved, the attractiveness of transportation via this corridor will increase and benefit to all the countries in the region.
"The potential of freight transportation from China to Europe is so high that the volume of freight will be sufficient for a few corridors." Akif Mustafaev
However, Mustafaev believes that existence and development of other transport corridors from China to Europe will pose a threat to the Trans-Caspian International Transport Route. "This, to some extent, creates an opportunity to diversify freight flows and provokes effective competition. The potential of freight transportation from China to Europe is so high that the volume of freight will be sufficient for a few corridors," Mustafaev said.
"The infrastructure of this project has already cost billions of dollars, and its economic return will influence the pricing." Vladimir Egorov
However, according to Russian experts in transportation, the prospects of the Trans-Caspian transport route are not as rosy as expected by Azerbaijan and Kazakhstan. Despite the fact that the Trans-Caspian transport route is the fastest way from China to Europe, it can hardly compete with alternative corridors due to high cost of transportation, according to
Vladimir Egorov
, doctor of economics, head of international relations and transport geopolitics chair, Institute of International Transport Communications of the Russian University of Transport. "The transportation of goods via the Trans-Caspian route will be more expensive than via the sea route and it will cost at least 30 per cent more than via the Trans-Siberian Railway running through Russia. The infrastructure of this project has already cost billions of dollars, and its economic return will influence the pricing," Egorov said. According to him, the Trans-Caspian route runs through many countries with diverse interests and laws, which don't belong to the single economic area. And it would be difficult for them to deal on single railway, customs and other requirements. For example, in Central Asia Kazakhstan will compete with Turkmenistan, which has launched the new deep-water port in Turkmenbashi this year, for the transit of Chinese goods.
"Despite the fact that China can use the Trans-Caspian route to diversify the traffic of its goods, the cheap sea route will remain the important corridor in the mid-run. This is the purpose why China builds up its military presence in the Indian Ocean, has created its first naval base in Djibouti and suggests opening a similar base in the port of Pakistan," Egorov said.
Another problem is that today neither Azerbaijan, nor Kazakhstan has container yards, and containers are shipped between the countries by ferry, as another Russian expert in transportation, the head of the InfraNews think-tank, Aleksei Bezborodov, said. Moreover, the ferry system capacities in the Caspian Sea allow transportation of only 8-9 thousand containers per year, given good weather conditions and no delays. This will be enough for the trade between the Caucasus countries and Central Asia and China, but won't be enough for the transit of Chinese goods to Europe.
According to Bezborodov, in this situation and without free market between the member states of the Trans-Caspian route, any forecasts of the transit trade prospects are useless:
With our existing approach, everything will be as it is now. There will be bilateral trade, certain operations. But there will be no transit.
---
This article was prepared as part of the Giving Voice, Driving Change – from the Borderland to the Steppes Project implemented with the financial support of the Foreign Ministry of Norway. The opinions expressed in the article do not reflect the position of the editorial or donor.