Every year, Kyrgyzstan grants nearly 80 game licenses to kill red list argali. 32 cases of illegal hunt were registered in three months of 2020.
---
Follow us on LinkedIn
---
In early 2019, the resident of Dzheti-Oguz district of Issyk Kul region, Talyp Beishebaev, illegally killed a Marco Polo sheep. When the poacher was caught in the act – with a carcass of the killed animal – he threatened the gamekeepers with a gun. Then he called a friend for help, captured the gamekeepers and coerced them for more than three hours.
According to the State Agency for Environmental Protection and Forestry of Kyrgyzstan, Beishebaev took smartphones of gamekeepers and deleted videos of their detention. Later on, when the perpetrators were neutralised, pieces of evidence were restored.
The court ordered to recover one million som (15 thousand dollars) from the poacher for the illegally hunted argali.
If the hunter bought a license for 700 thousand som (10 thousand dollars) and hunted the argali legally, he would save 300 thousand som (4 thousand dollars).
Rare and endangered animal species of Kyrgyzstan are protected by law "On fauna".
Article 21
Actions that lead to a negative trend in the development of the number and structure of populations, a negative impact on the conservation of populations or a reduction of the distribution area of ​​rare and endangered animals and plants listed in the Red List of the Kyrgyz Republic, or to the destruction of their clutches, eggs, dwellings, and other structures or violation of the habitat of such animals and plants, or the taking of these animals and plants in violation of the conditions specified in the permit for special use of such objects, are prohibited.
Moratorium is not over
Moratorium on harvesting rare animals in Kyrgyzstan was attempted to be introduced twice: in 2017 and 2019. However, both times the parliament rejected the draft laws. Similar proposals were made in 2014, but failed.
In 2017, it was suggested to ban hunting throughout Kyrgyzstan until 2030, excluding measures of control of the number of wolves, foxes and jackals. The initiative was dismissed by four deciding votes. The opponents of the draft law thought the ban would lead to the closure of hunting entities, aggravate the poaching, and leave the budget without significant earnings from selling of licenses.
In 2019, the ban on hunting of some species of animals was suggested until 2030: argali, Siberian red deer, roe deer, wild sheep, ibex, and wild boar, which are the main food of snow leopards.
The draft law was rejected on October 23, the International Snow Leopard Day.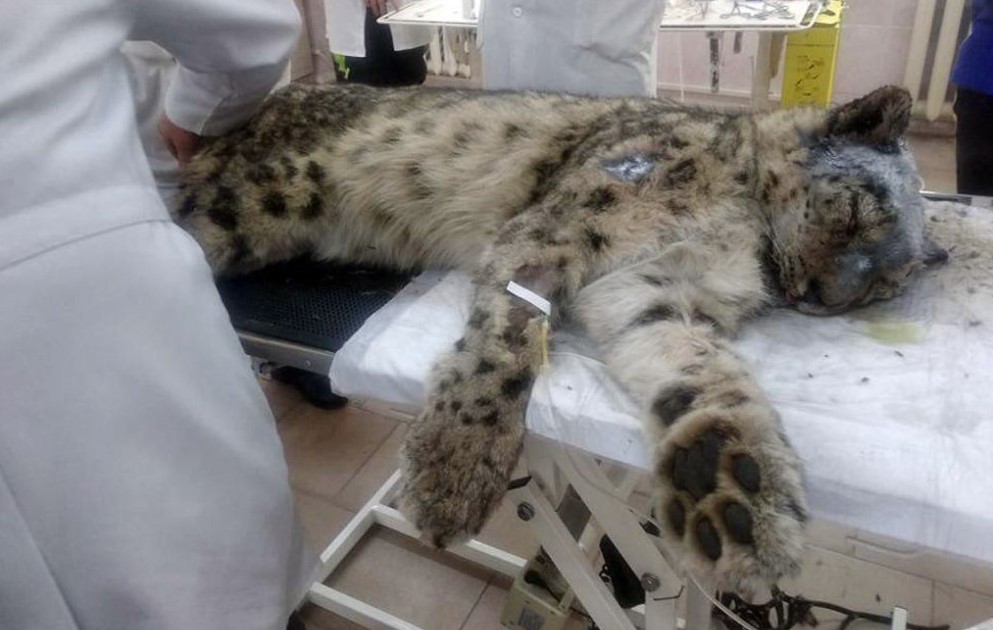 Early this year, residents of the village of Kok-Kashat, Talas region, found a wounded snow leopard. An unknown hunter shot the animal in the head with bird shot. The animal was saved, but it was not possible to save its eyesight. Now it is in a rehabilitation centre.
Despite the ban on hunting for snow leopards in the country, skins of the snow leopard can be found in various institutions and at ethnic festivals. Activist Vlad Ushakov shared the pictures of the skins of the Red List animals captured during the World Nomad Games in Kyrgyzstan on his Facebook page. The snow leopard was a symbol of these games.
There was another notorious case of the private zoo of the former president of Kyrgyzstan Kurmanbek Bakiev. After fleeing the country, rare animals listed in the Red List were found in his residency in Zhalal-Abad region. By this time, two snow leopards died of starvation and improper care.
"From 2017 to 2024, there is a moratorium in three regions of Kyrgyzstan. At the expiry of this term, it will be valid in other places. Thus we organise our efforts to protect animals," Almaz Musaev, the head of the Department of Biodiversity and Specially Protected Natural Sites of the State Agency for Environmental Protection and Forestry, said.
However, the independent ecologist, the head of public organisation 'Zhaamat', Gamal Soronkulov, said that this approach has a 'trick' – hunting is banned in the regions with almost no hunting entities.
"Now the moratorium is valid for Talas, Dzhalal-Abad regions and part of Chui region. Then it will cover Osh, Batken regions and half of Chui region. However, the majority of hunting entities are located in Issyk-Kul and Naryn regions, where hunting will be allowed for six years," Soronkulov said.
"For example, a limit for the wild sheep is 0.6 per cent of its population. There are about 15 thousand wild sheep in Kyrgyzstan. So, we'll issue 80-85 licenses. Also, we issue licenses for 4 per cent of the total number of ibexes, whose number is about 40 thousand," Almaz Musaev said.
One license costs 10 thousand dollars for a Marco Polo sheep, and 1.5 thousand dollars for an ibex.
The game manager of Issyk-Kul representation office of the Department of Biodiversity and Specially Protected Natural Sites, Aibek Kendirbaev, said that the Americans and Spanish buy licenses. Up to 500 foreign hunters arrive in the country every year.
Kendirbaev accompanied hunters with licenses personally. According to him, legal foreigners do not poach.
"Our officials from towns often poach. We've caught police and prosecutor's office officers. They paid fines through court action. In general, it has become more difficult to hunt illegally. They used to come to a hunting entity at random and killed animals back in 1990s – early 2000s. Now they have to pass through many cordons and checks," the game manager said.
According to the State Agency for Environmental Protection and Forestry, gamekeepers identified 217 cases of poaching in 2019 in the amount of about 4.7 million som (62 thousand dollars). Selling of licenses brought 10.7 million som (141.35 thousand dollars) to the budget.
"This is a scanty amount for our country. We lose much more. The moratorium would give a respite to fauna. We would replace hunting with trekking and photo tours, which are also profitable," Gamal Soronkulov said.
"The problem won't be solved if we don't involve the public"
Senior gamekeeper of Sarychat-Ertash reserve, Omurbek Kurmanaliev, was the poacher in the past. After the sovereignty of Kyrgyzstan, the only enterprise in his village stopped working and all men started to hunt illegally, according to the gamekeeper.
"Then we saw that animals reduce in number. We had to do something. So, 18 years ago all local poachers started working at the hunting department," Kurmanaliev said.
There are many people like Omurbek. Former poachers and hunters join voluntary associations that protect the environment along with state agencies. Public gamekeepers perform raids, detain the perpetrators and explain to hunters which animals should not be exterminated.
According to Gamal Soronkulov, there are 12 local environmental communities in the republic. Each one has up to 10 members. He leads the Dzhalal-Abad territorial office of environmental protection and thinks the poaching won't be solved if we don't involve the public.
"One state gamekeeper has to control nearly 70 thousand hectares of hunting lands. Such area cannot be controlled. So we suggested protecting the nature and animals together with the state," Soronkulov said.
Public activists are willing to work for free only to "preserve the nature and animals of their region", the ecologist said. Fewer cases of poaching have been reported during the period of involvement of activists in Talas, Chatkal, Aksy and Kara-Kulzha. It has happened also because poachers stopped hunting and came over to the side of environmentalists.
However, according to Soronkulov, the department of hunting delays conclusion of new contracts with local communities.
"Officials are unwilling to cooperate with us. However, they could provide us with fuel for our raids. The State Agency for Environmental Protection receive money as grants. It's unclear where they spend this money. […] I think international organisations should ask if they spend grant money as intended," Soronkulov said.
To fight poaching, it is not enough to distribute money responsibly. The head of public foundation 'Bugu Ene', Saltanat Seitova, is confident that people should become more concerned.
"To stop poaching, we need a ten-year moratorium. Also, we need to control its execution and to have a strict system of fines. If we ban hunting for 10 years and give a respite to the nature, people will see the results and change their perception. They'll understand that animals should not be killed. It's much more interesting to watch and take photos of them," Seitova said.
Main photo: State Agency for Environmental Protection and Forestry of the Kyrgyz Republic