The state thus demonstrates that citizens who return voluntarily can count at least on fair justice, according to experts.
---
Follow us on Facebook
---
Uzbekistan continues to return its citizens from combat zones in the Middle East. In the evening of October 10, the Dobro-2 [kindness] humanitarian operation was successfully completed and 64 children were delivered back to their homeland.
The kids were delivered to the airport of Tashkent by the special flight from Baghdad. It was reported on the same day by the national news agency UzA. The children were 39 boys and 25 girls. 14 of them are aged under 3 years old, and two are orphans.
Their mothers gave permission to repatriate kids. According to the report, these "women from Uzbekistan are sentenced to lengthy or life imprisonment for their participation in various international terrorist organisations." Their husbands either remain members of terrorist groups, or were killed in action, or serve terms in the prisons of Iraq and Syria.
According to UzA, in Uzbekistan these children will be placed to sanitary institution, provided with food, clothing, comprehensive medical, psychological and social aid. Also, issues with their identity documents, allocation to sponsors and custodians, placement to kindergartens and schools are being solved.
Such events show that Uzbekistan is a responsible international actor, according to the independent analyst based in Tashkent, who asked not to be named. The country makes these efforts to counter international terrorism, human trafficking, transnational organised crime, and other evil, he said.
The expert is confident that such operations are very important for the country as they demonstrate the candour and amiability to all citizens, who happened to be in combat areas for some reason.
"These efforts show the citizens that if they make a mistake and come back to Uzbekistan voluntarily by contacting diplomatic missions abroad, they can count at least on fair justice. They also can count on the indulgence of the state," expert said.
He noted such events should be also held in Afghanistan and Pakistan. In this regard, the state should rely on established friendly relations with the governments of these countries, including intelligence agencies and military departments.
"I think it is right and it's time to cover those persons who had to leave the country after, for example, the Andizhan events of 2005 with such programmes of mercy and pardon. I suppose Uzbekistan will arrive at such decision over time," analyst said.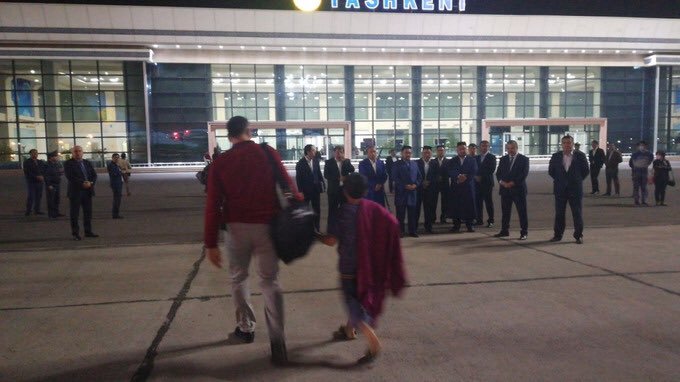 Complicated process at all stages
This is the second special operation of return of the citizens of Uzbekistan from combat areas in the Middle East that was initiated by President Shavkat Mirziyoyev. They are held in cooperation with foreign governments and a range of international organisations.
The first group of returnees, namely 156 people, came back to their homeland this May. Among them were 48 women, one man, and the rest were children, including two orphans.
Uzbek president Shavkat Mirziyoyev commented this event one month later and called this process "complicated."
"It was difficult to return them. We returned them with many difficulties. We had to return the plane we sent there half-way. I got a phone call and was told the plane would be shot down. I had to give a command to land the plane in Azerbaijan. We send buses there to get women and children back. Only two buses of 5 came back. We couldn't take all the people," the president said on June 21 at the meeting of the Senate in Tashkent.
Upon arrival at Uzbekistan, the majority of returnees were placed in the health resort, where they were provided with psychological and medical rehabilitation services. Open sources keep silent about their lives. The government is known to keep helping them.
This help was confirmed by the chair of the district Women's Committee, deputy hakim of Kibrai district of Uzbekistan, Saodat Salikhova, at the conference for rehabilitation and reintegration of the citizens of Kyrgyzstan who came back from combat areas of Syria, which was held on July 29-30 in Bishkek.
Sharing the experience of Uzbekistan, she told that mahallas have psychologists in place who took special trainings held by Women's Committees.
"First of all, the "returnees" need help, they change once they see they are provided with help. They need to be provided with housing and employment as a fishing rod, it will help them adapt," she said (cited from Kaktus.media).
It was reported this June that one of the women who was returned in May was provided with housing. Local authorities of Surkhandarya region provided a two-room apartment to her. According to the press service of regional khokimiyat, the woman was given a sewing machine and foodstuffs. Her child was taken to a kindergarten and she was given an unemployment relief.
Lengthy preparations
In July, the editorial office of CABAR.asia sent a request to the State Security Service of Uzbekistan and it reported that the authorities were going to continue the humanitarian operation Dobro and prepare for getting 177 more Uzbekistanis back from Al Khol camp in the Syrian province of Al-Hasakah. According to Uzbek intelligence services, these are 48 women, and the rest are children, including three orphans.
On September 25, foreign minister of Uzbekistan Abdulaziz Kamilov confirmed these intentions and announced the forthcoming return of 170 people from Syria and 65 children from Iraq at the meeting of the UN Security Council. He asked for assistance of international organisations and states directly involved in the processes happening in the Middle East.
"First of all, we are asking for assistance of all present permanent members of the Security Council. We are ready for this cooperation," Kamilov said (cited from Kun.uz).
No official has commented on the results of the special operation Dobro-2 yet.
---
This publication was produced under IWPR project «Forging links and raising voices to combat radicalization in Central Asia»