The agricultural sector of Uzbekistan employs 44 per cent of national workforce, this sphere makes 17.6 per cent of the national GDP.
---
Follow us on LinkedIn
---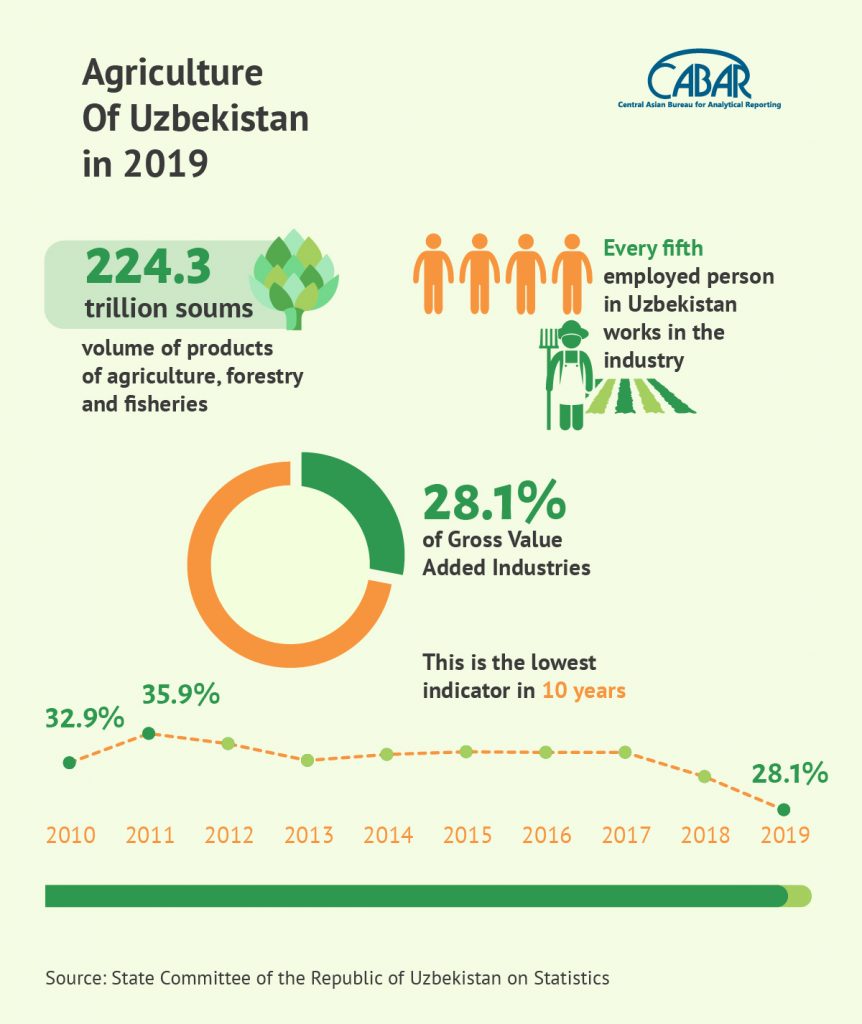 According to the State Statistical Committee for 2018, wheat as well as vegetables and fruit prevail among agricultural produce. In 2019, cotton and food commodities amounted to less than 10 per cent in the structure of exports of Uzbekistan.
The head of Gulom Polvon farm in Dzharkurgan district of Surkhandarya region cannot reach the khokim of the district for two months already. According to Malika Aliboeva, 88 hectares of land cultivated by her family for 22 years can now be seized.
Malika Aliboeva said that in early April "some people" reached her and told her that the khokim wanted to seize her land. The head of the farm send an official claim to the khokimiayt and on May 21 she received an official reply that the reason for land seizure was explained to her in a telephone conversation. According to Aliboeva, she had no telephone conversations.
On May 5, the Dzharkurgan district kengash (council) of people's deputies issued an order on seizure of all lands belonging to Gulom Polvon farm. The reason was the delayed cotton planting.
"This is lie. Both grain and cotton were planted on time, harvesters will start harvesting in 2-3 days," Aliboeva said.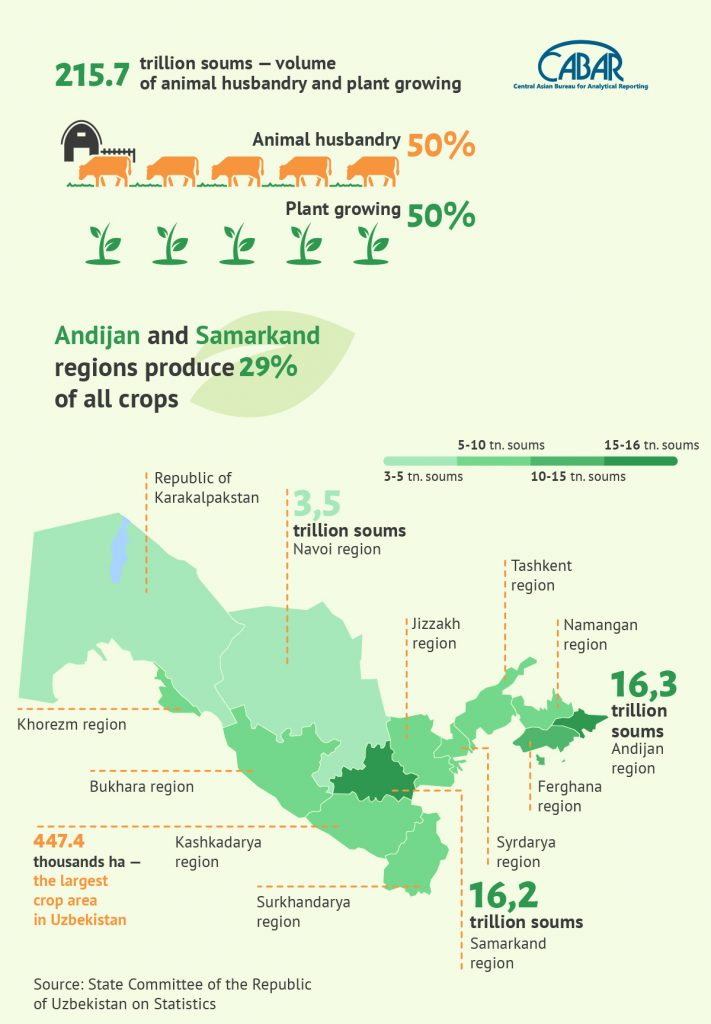 In middle February, the president of Uzbekistan called to drop the state plan on cotton and grain. "This year we decided to drop the government order of cotton and grain in phases. In terms of farmers' income…the 100-year-long system is cancelled for three years – this is a difficult question. In general, this year we are starting big reforms in agriculture. If we don't liberalise agricultural production, or don't improve concern, we will not reach economic growth and efficiency," Shavkat Mirziyoyev said then.
Nevertheless, recently a conflict between police officers and a farmer took place in Kashkadarya region because of the unplanted cotton.
"In 2020, agriculture can become one of the main stabilising factors and growth factors for the economies of Central Asian states. Moreover, it can provide more jobs than any other sector," Sergiy Zorya, lead economist on agricultural issues of the World Bank, said during the online briefing for regional media and expert community.
The COVID-19 pandemic did not lead to a significant destabilisation of global markets of food commodities. However, its consequences create a certain threat to food security, agriculture and agricultural exports in Central Asian states, according to Zorya.
"In the short run, the states in the region may face definite problems. For example, price leaps in some kinds of food products and restricted access to them for vulnerable groups because of drop in income. Also, failures in the chains of raw materials and seeds and fertilisers supplies may lead to delays in agricultural work and have negative impact on future harvests of various crops," the expert said.
At the end of March, the World Bank approved allocation of 500 million dollars to Uzbekistan to support agriculture. This money will help farmers get access to new agrotechnologies and loans, which, in turn, must improve the range of agricultural produce.
In the mid-run up to 6 months, the decline in domestic consumption of food products is expected as a result of economic recession, decline in money transfers from migrant workers to their families and devaluation of national currencies in the regional countries, according to the World Bank. Besides, the demand for fruits and vegetables from Central Asia will expectedly decline in Russia, where economic crisis has had an impact on the purchasing capacity of people. There will be problems with loan repayment by local agricultural producers, whose activity has suffered from lockdown restrictions.
Meanwhile, FAO reported global decline in prices of food staples in the last four months. In early April, the president of Uzbekistan gave a task to use homestead land to plant spring crops two or three times a year. Owners of such lands who use them inefficiently will get warnings, and those who fail to plant crops after being warned will have to pay the increased land tax.
The practice of using temporary unused agricultural lands is planned to employ low-income families. They will also be provided with transplants of fruit trees, vegetable seeds and other material resources.
*Cover photo: east-fruit.com
---
This article was prepared as part of the IWPR's Giving Voice, Driving Change — from the Borderland to the Steppes Project.