"Last year Kazakstan adopted many legislation amendments, including law on media, which recognises some statements as propaganda. It means that journalists preparing some material now should think whether it will be taken as propaganda," said Gulmira Birzhanova, lawyer of Legal Media Centre, in the interview to CABAR.asia.
---
Follow us on LinkedIn
---
CABAR.asia: What should journalists of Kazakstan keep in mind when preparing materials on a sensitive topic?
Gulmira Birzhanova:
A load of lawsuits and verdicts against journalists and activists is related to extremism and terrorism charges. Unfortunately, these cases are most often guilty verdicts. So, we, as an organisation providing training to journalists, say that they always must have a body of evidence. In other words, if you cover terrorism, religion and extremism issues, you always need to have evidence:
You should attend trials related to the topic;
You should not make heroes of people who are found guilty by court;
You must consult relevant experts because many journalists make mistakes in terminology, names of various religious movements, which are prohibited in Kazakstan.
The next point is that we often say: when you cover similar topics, you should be neutral, or else you would be charged with making propaganda for any given religious movement.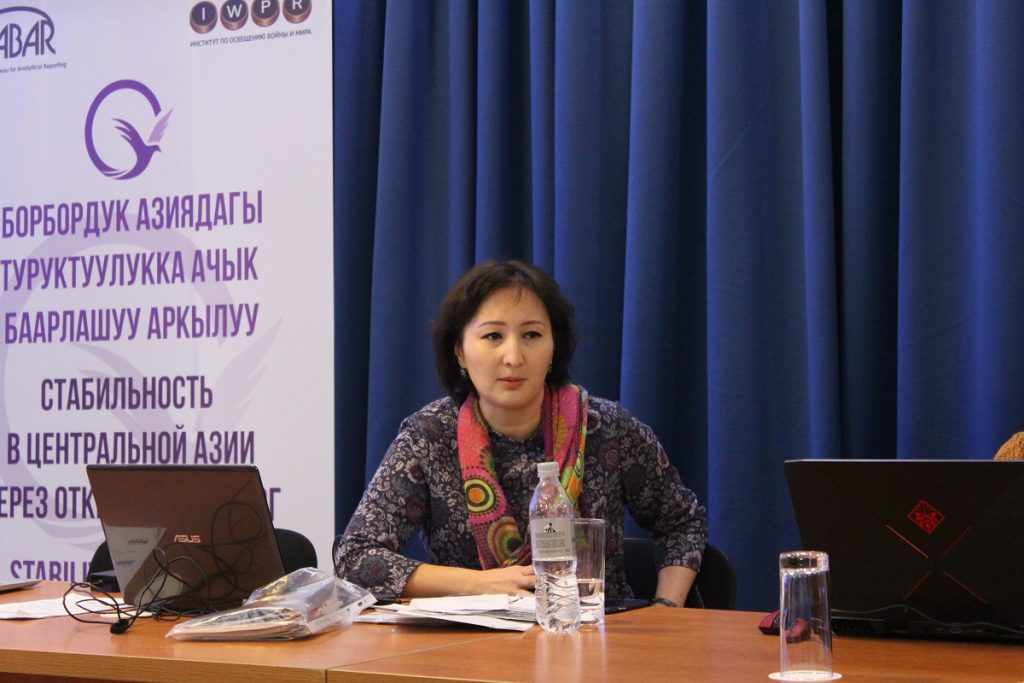 Unfortunately, last year Kazakstan adopted many legislation amendments, including law on media, which recognises some statements as propaganda. It means that journalists preparing some material now should think whether it will be taken as propaganda.
For example, there is a movement of DVK (Democratic choice of Kazakstan) in Kazakstan, which is now prohibited by court. After the propaganda-related statutory provision became effective, journalists had no idea of how to write about it. I don't like the experience of Russia, but they at least make it clear that if you say ISIS, a prohibited organisation in Russia, you won't be held liable. Our wordings are very vague and sometimes journalists don't know how to write about it. If they write it is a prohibited movement in Kazakstan in brackets, would they be released from responsibility? Unfortunately, Kazakstan has article 174 of Criminal Code of the Republic of Kazakstan, which is about the incitement of social, ethnic, tribal, racial, class-related or religious hatred. This article is number one among other applicable articles in Kazakstan now. We can say it is absolutely extra-legal, it has no legal implications, all you have to do is express your opinion. It doesn't need to cause anything, or negative consequences. For example, I say my religion is better than yours, my religion is superior. And there have been cases when people are charged under this article and are seriously punished up to 5 years of imprisonment. That's why we say: you should be very cautious.
How can journalists do their job in this situation and what problems do they face today?
I think there are two problems, two major aspects. The first problem is when in 2009 Kazakstan likened all internet to media. It has blurred the distinction between internet and media. Everything available on the internet is media.
Therefore, we cannot say that only journalists are held liable. Because all bloggers, all internet users are media, according to our legislation. This is a legal matter. When we say that journalists are held liable, we mean bloggers and human rights defenders. The second problem is probably that media avoid writing about terrorism and extremism. For example, if they cover a trial related to article 174 of the Criminal Code of Kazakstan, you will see a poor headline and poor text – one paragraph about prosecution of some pastor, for example, or imam in some region. But you will not see the point in this article because they are afraid of negative consequences and of prosecution.
Kazak legislation is very vague; it can be played around with.
And I do understand them. A reader won't even understand the charge, which trials have already been held, and what [reader] can be held liable for. Kazak legislation is very vague; it can be played around with and it absolutely doesn't comply with international standards. Cases of this category must necessarily contain calls for action. But here it's enough to express your opinion and you may be held liable for that.
As far as I know, last year Kazakstan adopted new legislative amendments, including the need to obtain consent to disclose information and a level of risk for media. How has it affected the media situation in the country?
As to the norm of consent to publication, we have participated in the drafting of the law on amendments to media law and we have been against this norm. This clause appears in the article "Responsibilities of journalists". Now, when journalists prepare materials, they should ask for preliminary consent to disclose personal data, personal secrets, or any secrets specified in laws. For example, if you prepare material related to corruption, you'll need to ask, "May we disclose your data, surname, etc." This will destroy investigative journalism, which is a problem in Kazakstan, at the grassroots. The most famous website that published investigations is ratel.kz. Its chief editor now gets a criminal charge. We think this norm doesn't comply with international standards as it doesn't comply with the Constitution, because it is a censorship. In other words, before you publish your material, you should get everyone's consent to it. I am a practising lawyer and it has not caused any problems in practice so far. But Kazakstan often takes preventive measures in advance. Journalists see these norms and are just frightened. Now these norms are inapplicable because they have not been applied so far. But, unfortunately, they exist in our legislation, a media law. The second regulatory document is the order of ministers of information and economy to divide media into risk groups. We think this order make absolutely no sense. It has been introduced for a purpose; it should have been applied to business. For example, if you are in a high risk group, you won't be able to get a loan and you will be registered with tax authorities as an entity of special concern. But in Kazakstan, the state takes the media as propaganda, not as business. Why do it then? In this case, let's liken all media outlets to businesses, as they do in all normal countries. Besides, this order applies some graded approach. It covers print media, not television. My question is why not television? Doesn't it broadcast illegal information? Unfortunately, the order has been signed. But I hope there won't be problems with it in practice because Kazakstan often adopts provisions, which are inapplicable.
As you said, Kazakstan takes measures in advance. In this regard, can we say that journalism doesn't have such problems as hate speech or defamation?
If we speak about traditional media, they don't have hate speech because 99 per cent of print media in Kazakstan receive government order for information – big money from the state. Of course, they won't publish such information.
But in practice, they prosecute people who don't call for violence.
All similar cases are related to the internet, Facebook. If we look at the publications on the internet, posts, comments – they contain much hate speech, sometimes they contain calls for actions, for violence. But in practice, they prosecute people who don't call for violence. All high-profile trials are often politically motivated – these are prominent cases of civil activists who have expressed their opinion about the land reform, of religious activists. They are prosecuted for the freedom of expression. Although, if you go on websites, I think, as a lawyer, you will find many people who can be prosecuted for their calls for action.
So all these measures have been dictated by mere politics?
I think so. Countering terrorism, extremism, hate speech are good purposes. But unfortunately I think it's not right to close and block websites, to prosecute civil activists under the guise of countering extremism. We should fight. We understand that we live in the internet age, when information is spread instantaneously, including terrorism. I don't say we shouldn't fight it at all. But we should fight really negative components, those who promote terrorism, extremism, use hate speech. However, in practice, especially in terms of article 174, it's happening the other way round.
---
This publication was produced under IWPR project «Forging links and raising voices to combat radicalization in Central Asia»