The toastmaster business is booming, but some fear celebratory excesses have gone too far.
At a restaurant in central Bishkek, 40 guests gather to celebrate a six-year-old girl's birthday. Parents and children alike are dressed in their best clothes, ready for games and quizzes. A lavish meal is served, with a celebratory cake as the finale.
At the centre of the action throughout is Erkin Ryskulbekov, one of Kyrgyzstan's best known and most in demand party hosts.
Laughing and joking with adults and children, the 28-year-old ensures the entire event runs smoothly, introducing guests and announcing games.
"Guests can't stay seated for a long time," he said. "They need a shake-up – contests, dances, and toasts. Otherwise, they'd call it a poor celebration."
Later, at another venue on the outskirts of Bishkek, Ryskulbekov repeats his performance as master of ceremonies at a wedding with 300 guests.
Cracking jokes in both Kyrgyz and Russian, Ryskulbekov manages to give the impression that he has known the happy couple and their extended families for years.
He is tactful when partygoers attempt to intervene with their own songs and speeches.
"Guests take weddings or children's parties very seriously. Someone might have been preparing for the occasion and learning poems for six months. I respect it [and allow everyone to perform] because people do it from the bottom of their heart," he said.
Ryskulbekov only leaves the wedding in the early hours, together with his team of photographers and sound producers. There are more events to host tomorrow.
The culture of hospitality is a central part of life across the whole of Central Asia.
In Kyrgyzstan, celebrations demand an extensive guest list of family and friends and are seen as a chance to mingle, network or even resolve long-running conflicts.
According to online Central Asian outlet Open Asia, a billion soms (14 million US dollars) are spent on feasts in Kyrgyzstan each year.
And few celebrations are complete without a party host, or tamada, who serves as master of ceremonies.
They are responsible for inviting musicians, singers and dancers as well as providing their own teams of sound producers and photographers. They joke, laugh and introduce performers, as well as making the multiple toasts that are part and parcel of a Kyrgyz party.
Thousands of Kyrgyz work year-round as freelance tamada, with autumn particularly busy as it is the traditional season for weddings.
Last year, tamadas even founded their own professional association – the Kyrgyz National Guild of Hosts.
The most sought-after hosts, such as Ryskulbekov, handle large, complex events with a programme that can last for up to two and-a-half hours. The host and accompanying team of cameramen and sound producers can expect to be paid between 800 and 1,000 dollars. Ryskulbekov said that more junior hosts were paid between 300 and 600 dollars per event.
Luxurious food is de rigeur, with feasts including fruit and dried fruits, salads, several main courses including a plov or a traditional dish made of meat and noodles called beshbarmak as well as a desert.
Alcohol flows freely, although Ryskulbekov noted that this was gradually changing.
"People drink less nowadays than they used to," he said.
The problem is that, despite growing standards of living, many Kyrgyz families find themselves near bankruptcy due to the social pressure to host ever-more lavish events.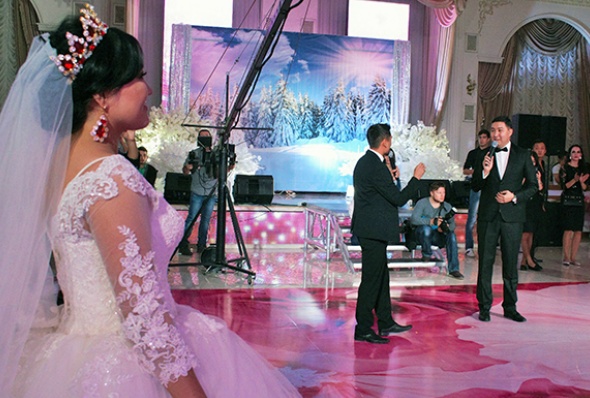 It's not unusual for Kyrgyz events to have a guest list of up to 900 people, and the average wedding spend, for instance, is 200,000 soms (2,800 dollars).
This is a significant amount given that the average monthly salary in Kyrgyzstan is 220 dollars, although it can be as little as 14 dollars in more remote regions.
Local banks have even taken to offering special wedding or festive loans.
Kyrgyz parliamentarians are increasingly worried that these kinds of celebrations are having a damaging social effect on Kyrgyz families. Then there are the numerous official events involving top Kyrgyz politicians and business leaders, often just as lavish as wedding or birthday parties.
Ryskulbekov is a veteran of such events, having hosted a popular political talk show called Oi Ordo at the national public broadcaster OTRK  which gave him an added insight into such circles.
The feasts held by decision-makers reflected the atypical nature of Kyrgyz public life, he noted.
"The peculiarity of Kyrgyz politics is that the same people are quite different in public and private settings. They do not mix politics and personal relationships," he said. "They can argue with each other [on TV] over fundamental public issues, but at an anniversary they will sit together and pass the best foods to each other."
Nonetheless, legislators have called for more oversight on state spending on government feasts, with plans to penalise officials for holding overly lavish feasts.
In November 2016, lawmaker Jyldyz Musabekova said the feast culture actually served to interfere with government business.
Lawmakers visiting the regions were invited to one party after another, she continued, with little time for any actual work.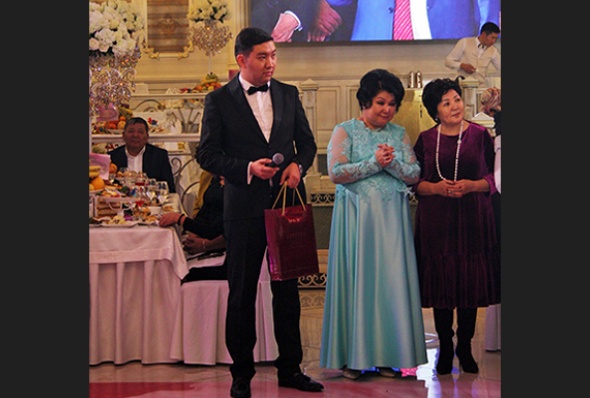 "Wherever you go, all akims [local authorities] are only busy preparing for another feast – this person has a birthday and that person has a birthday," she told parliament."Perhaps the government can issue a decree to impose a moratorium on feasts? How many more [feasts] are we going to have in 2017?"
Prime minister Sooronbay Jeenbekov told the parliamentary meeting that banning feasts would be unconstitutional, although there have been previous attempts to clamp down on such excesses.
In February 2016, a draft bill regulating feasts and ceremonies came before parliament.
Amongst its proposals were limiting the number of guests to 150 people for weddings and 100 for children's parties.
However, even if passed, the impact of such legislation is likely to be negligible.
In 2012, Osh city hall ordered the number of cars in a wedding cortege to be limited to four vehicles, but with little success.
A video shared on YouTube last year showed a wedding in the city featuring a cortege made up of 25 Mercedes-Benz G-class four wheel drives.
And business is booming for Ryskulbekov, who is booked up for months ahead.
His job can be extremely stressful, he said, adding, "Entertaining people for five hours a day and staying in a good mood is challenging."
Nonetheless, he considers that he is providing a "public service".
"I've got no right to make mistakes. At that moment, I become part of the family, I become their man," Ryskulbekov said. "They trust me to lead the most important events of their lives."
Mariya Zozulya is a Bishkek-based journalist.
This publication was produced under two IWPR projects, Investigative Journalism to Promote Democratic Reform, funded by the European Union; and Strengthening Capacities, Bridging Divides in Central Asia, funded by the Foreign Ministry of Norway.