On October 16 this year, three drunk young men broke into the house and attacked a 25-year-old young man in Tamchy village of Issyk Kul oblast, Kyrgyzstan. This is a version suggested by the family of the man who was beaten. He was a Kyrgyz proselyte and practised Christianity. He has severe brain concussion, one eye injury, a broken jaw, knocked out teeth, and multiple injuries. The young man is still in the territorial hospital.
---
На русском
Кыргызча
According to relatives, the conflict occurred on religious grounds. However, Directorate of Internal Affairs (UVD) insists there was no religious background, only hooliganism. "According to the victim, he lived in Tamchy since October 1 and was housesitting for his uncle, who went to Bishkek with his family. On the night of October 15-16, approximately at 2 am, he was listening to music from his mobile phone via a speaker. At this moment, inebriated guys Zamanbek, Alesh and one unknown knocked on the window and called him outside. After that, they accused him of listening to music too loud, started beating him and then left. The victim got back home and went to bed, and in the morning he called his mother and told about what happened to him, and went to the district police station. This fact was registered by the district police station of Issyk Kul region," UVD said. However, the version told by the lawyer of the victim, Zhanara Askar kyzy, differs from the version of the law-enforcement bodies. "The locals beat him because they had heard him singing Christian glorifying songs in the afternoon. At night, they, by criminal conspiracy, broke into the house and scoffed at him. They coerced him into rejecting his faith. After he refused to reject Jesus Christ, he was beaten. The perpetrators allowed him time until the next day and ordered him to leave Tamchy. Otherwise, they threatened to go back and kill him," Askar kyzy said.
Threats to burn the house down because of religious affiliation
The threats and "hooliganism" are what the family of the young man have already encountered. The first one to change religion was his uncle Nurbek Esenaly uulu 20 years ago. According to him, he has been repeatedly persecuted and suffered violence from his family members because of his change of religion. After a while, the man's relatives understood his choice, and some of them even adopted Protestant Christianity. The beaten nephew was one of those who followed him. However, their fellow villagers turned out to be not that tolerant. Nurbek told CABAR.asia that he and his family members who believe in Jesus had been discriminated against. "Several times they broke windows in my house. Neighbours told me they heard or saw no one. Later on, I learned that there was a meeting in the village and local guys threatened to burn my house down because of my religious affiliation. The villagers think I make a church out of my house in summer and carry out worship services in it. In fact, I, just like all other villagers living on Lake Issyk Kul, rent out rooms in my house for travellers. And I don't care about their religion. It's just business," Nurbek said.
"Locally, they take Kyrgyz proselytes as betrayers not only of religion, but also of memory about ancestors and motherland." Indira Aslanova
According to him, despite the fact that he has seen multiple cases of impairment of his religious right in twenty years, not everyone is so hostile to him. There are people who understand his choice, but they are in the minority. According to religious scholar
Indira Aslanova
, the facts of intolerant attitude towards Kyrgyz proselytes have emerged back in the 90s and most often in the north of the country, when the Kyrgyz began to convert to other religions. According to her, disrespect to the choice of religion often causes family disputes and scandals, sometimes leading to divorce, if only one of the spouses chooses another religion. For example, there was a case in the early 2000s, when the family broke down because the husband was a Muslim, and the wife converted to Christianity.
"Islam calls for tolerance towards other religions. Moreover, Christians and Jews are taken as Ahli Kitab, i.e. people of the Book, not pagans. Locally, they take Kyrgyz proselytes as betrayers not only of religion, but also of memory about ancestors and motherland. Also, they don't care if a proselyte had been religious before or not, what kind of life he lived. If a person was a kind of Muslim, but used to drink alcohol and beat his wife, it is taken for granted, and if a person becomes a Christian and stops doing bad things, it is taken negatively," Aslanova said.
You cannot bury here
Expert
Roza Duisheyeva
thinks that problems with religion in Kyrgyzstan are mostly due to the insufficient state regulation of religion in cooperation with the civil society. She noted that the Kyrgyz constitution guarantees the freedom of conscience and religion, where every person is free to choose and have religious and other views. No one can force anyone to follow or reject any religion. "However, this article is being persistently violated because some people just don't understand that they live in a society, where the guaranteed freedom of religion is violated intentionally to undermine the concept of secularism. And the concept of secularism in the society should be associated not only with the statement that religion is separated from the government or vice versa, but also with the security of the state and integrity of the society," Duisheyeva said to CABAR.asia.
For more details see: Religious and Secular Radicalism in Kyrgyz Society
The state commission for religious affairs, which now takes preventive measures throughout Kyrgyzstan, also awaits support of the civilian sector. According to deputy head of the agency, Zakir Chotaev, the key issues are prohibition of discrimination, tolerant attitude towards representatives of different confessions, as well as the emerging topic of burial of Kyrgyz proselytes. "There are facts that speak for themselves. But generally the society understands that if we live in a secular state, the state treats all religions and representatives of religious and non-religious communities equally. Therefore, we need to work more at prevention and coverage in the media. We are trying to manage this. In this case, we need support of the civil society and religious organisations to actively promote and further this topic in social networks and media," Chotaev said.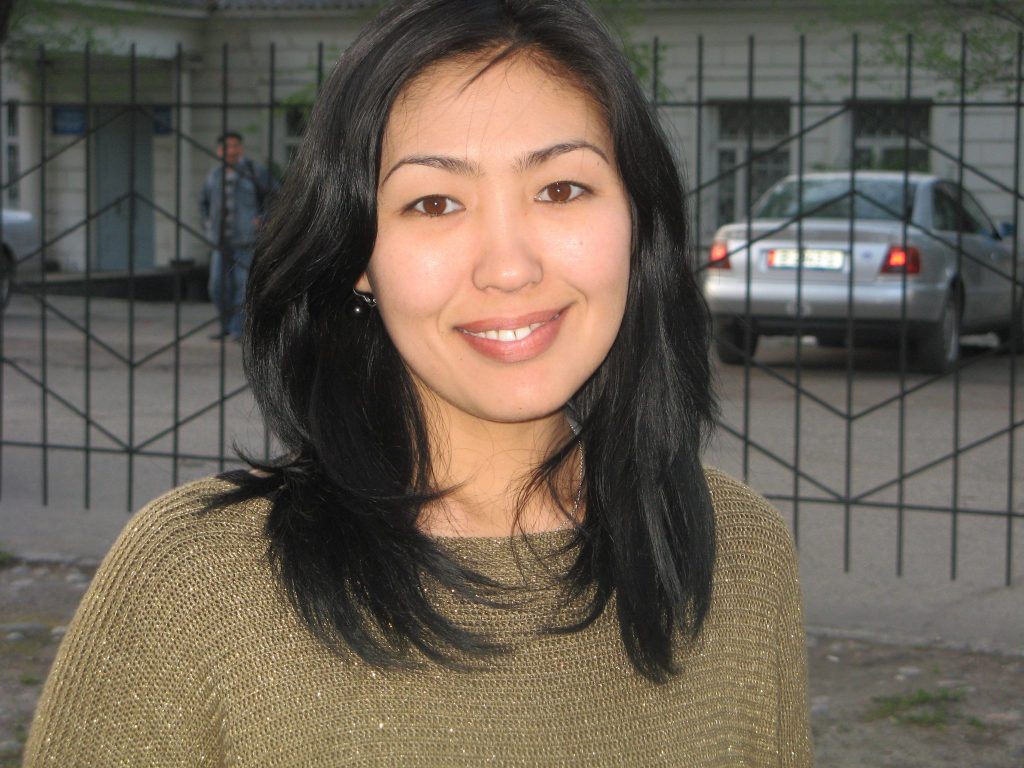 Human rights activist
Gulshair Abdirasulova
thinks there are few reasons for growing religious intolerance, but the main one is the lack of prosecution for any intolerance, not only religious. Police have initiated a criminal case on article "Hooliganism" of the Kyrgyz criminal code on over the fact of beating of a young man in Tamchy. "The codes contain relevant clauses, yet in practice if a murder is committed because of religious hatred, it is qualified as a murder. If the beating is caused by religious intolerance, it is qualified as infliction of bodily harm of a certain degree. Or if any official discriminates against a woman for her religious symbols, e.g. a headscarf, it will be qualified as a disciplinary action in the form of a reprimand. I cannot recall any case in Kyrgyzstan when people who have exhumed a body or who have forced other people to change religion and make a prayer of a different religion have been prosecuted for intolerance and hatred," she said.
In October 2016, residents of Sary Talaa village of Ala Buka district, Zhalal Abad oblast, and local imams didn't allow the relatives of a villager, Kanygul Satybaldieva, to bury her at a local graveyard because she was a Baptist Christian. After the conflict with villagers, she was buried in the neighbouring village of Oruktu, but villagers there also opposed. The second time she was buried was at the Orthodox graveyard in the same district, but the body of the woman didn't rest in peace. She was again buried not at the graveyard, but between two mounts on a way to some village. In January 2017, the district court adjudicated in the case of five young men who took part in the exhumation of the woman's body. They were sentenced to three years in prison each with probation for one year. However, the woman's family thought the initiators of discrimination were not punished. They wanted the akim of district, head of aiyl okmotu and imams who ordered to exhume the body to be held liable. Indira Aslanova noted that this was one of a few cases, which was made public. The majority of cases never become known.
"Unfortunately, despite the periodic conflicts, the government is in no rush to regulate this issue." Gulshair Abdirasulova
"In Kyrgyzstan, graveyards have generic structure, and when relatives try to bury a Christian at a conditionally "Islamic" graveyard, the local community resists. In 2006, a teenager has died in a family of Baptists in Kyrgyzstan and they could not bury him for a long time because of such public reaction. Finally, they have buried him right in the yard," the religious scholar said. According to Gulshair Abdirasulova, the problem is not about the process of burial, but about giving a place for burial of a person of another religion on a common plot of a graveyard:
"Why do people think that a graveyard is intended for Muslims only? The state cannot afford to have separate graveyards for every confession. Only one land plot is allocated, and the local authorities are responsible for dividing it into religion-specific plots. Unfortunately, despite the periodic conflicts, the government is in no rush to regulate this issue. Although the regulation on dividing a graveyard into religion-specific plots has long been developed, yet it is not adopted at the governmental level."
Kyrgyzstan does not have a law on burial, so the working group composed of representatives of public authorities, various experts and lawyers has developed temporary instruction. According to Zakir Chotaev, deputy chairman of the state commission for religious affairs, the document sets forth general rules for representatives of all religions and is now reviewed by the government. "This instruction should be followed by local authorities when they allocate lands for burial. We have provided for a sector-based division of a municipal graveyard, and, when necessary, for a place for the burial of representatives of religious minorities. There are no obstacles to burying at one graveyard, but it should be divided into sectors. We can divide the sectors for Muslims and Christians by a path, a shrub, an irrigation ditch, and also there should be separate entrances to such sectors," Chotaev said.
The city graveyard in the village of Grozd is an example of a graveyard with no problems. It was opened a year ago in Alamudun district of Chui oblast. The graveyard occupies now 44 hectares and is divided into several sectors: for Christians, Muslims and representatives of other religions. It contains nearly 4 thousand burial spaces. It has a parking lot, lighting, and the paths within the graveyard and access roads to it are surfaced. The municipal government has spent about 50 million soms for these arrangements. In average, Bishkek buries 1,400 people per year; thus, the new graveyard will run out of room in 3-4 years. However, officials assured that this is only the first stage. The new lands will be reclaimed and one land plot will be used for 10-15 years.
Religious freedom
One of the reasons for religious intolerance, according to human rights activist Gulshair Abdirasulova, is the statements by top officials that 90 per cent of citizens of Kyrgyzstan are Muslims. This is often related to the fact that the religious identification of Kyrgyzstanis is mainly based on their ethnic background. For example, the Kyrgyz, Uzbeks, Tajiks are automatically deemed Muslims. According to the US Commission on International Religious Freedom (USCIRF), the country has over 80 per cent of people (5.7 million people) who are Sunni Muslims; 15 per cent are Christians, mainly Russian Orthodox; the remaining five per cent are a small number of Shia Muslims, Protestants, Catholics, Jews, Buddhists, Baha'is, and those who don't associate themselves with any religion. As for the demonstrative preference of a certain religion by top officials or functionaries: be it a demonstrative hajj by the head of state, or the involvement of religious leaders in election campaign, according to Abdirasulova, it also contributes to such problems.
For more details see: Role of Islam in Kyrgyz Politics
Besides, according to her, the situation is also influenced by the speeches of religious leaders, who tell people to live under the Sharia law, the conflicts and the imposition of religion. In response, the non-religious part of citizens starts to condemn wearing a beard, religious symbols, and the personal appearance of the faithful, and also argue for the freedom of choice. "Now there's a confrontation between the believers, Muslim Kyrgyz, and non-believing Kyrgyz. For example, regarding daavatchy, who tell the household to call any men in the house, including in a rather aggressive way, and sometimes they enter unfenced houses in new residential areas. Very often we witness criticism against representatives of culture and show business regarding their personal appearance and image," Abdirasulova said. In its annual report, the US Commission on International Religious Freedom (USCIRF) noted that many religious communities in Kyrgyzstan are still discriminated against, face hostility and indifference. Therefore, USCIRF recommended amending the laws and raising a question of violation of religious freedom in Kyrgyzstan at relevant international platforms, including OSCE and UN.
Bermet Ulanova – CABAR.asia School of analytic journalism alumnus
---
This publication was produced under IWPR project «Forging links and raising voices to combat radicalization in Central Asia»