Leading European and American media has focused rather on protests and harsh police responses on the presidential election day than on the voting process per se.
---
Follow us on LinkedIn
---
Just before the election, June 9, every single foreign journalist must have thought about how to present the material about the presidential election in a country, which the majority of foreign audience have no idea about, in an interesting and alluring way. Moreover, the election results have been foregone and made no intrigue. But on the election day, according to publications in foreign – mostly American and European – electronic media, it was not a puzzle anymore. Protesters in the major cities of Kazakhstan have made the news. Law enforcement bodies added to the news feed with their response and the magnitude of protests and discontent.
The Guardian
Little change expected in Kazakhstan despite Nursultan Nazarbayev stepping down after 30 years in power, according to The Guardian. Tokayev, the interim president and a loyal Nazarbayev lieutenant, offered 18 million Kazakhs a back-to-the-future manifesto, according to the author of the article.
The deputy interior minister Marat Kozhayev said three police were injured in clashes and 500 demonstrators were taken to police stations. Tokayev tried to play down the protests, according to The Guardian. Thus, he claimed elections should not be a "battlefield". The regime has sought to present the election as a force for stability.
Some voters happily endorsed Tokayev's pledge of continuing the policies of Nazarbayev. However, there are concerns that Nazarbayev may retain power behind the scenes, with many believing in his long-term plan. "I voted for Kosanov because I'm against the government," said 27-year-old Zhakip, dismissing rumours that the candidate had done a deal with the government to stand. This is the first time, in his opinion, a presidential election has included a candidate with a claim to representing the opposition.
A new movement called Wake Up, Qazaqstan has emerged on social media during the election campaign, calling for democratic reforms. The activists use the hashtags #qazaqkoktemi (Kazakh spring) and #menoyandim (I've woken up). The "wake up" theme comes from a 1909 poem written by Myrzhakyp Dulatov during Russian colonial rule. "Wake up, Kazakh! Think, Kazakh! Be, Kazakh!" it reads.
A Kazakhstan-based blogger and activist of "Oyan, Kazakhstan" ("Wake up, Qazaqstan") campaign, Anuar Nurpeisov, said to The Guardian, that the movement is inspired by "a yearning for freedom". "This generation is tired of living under the leadership of people who grew up in the Soviet Union."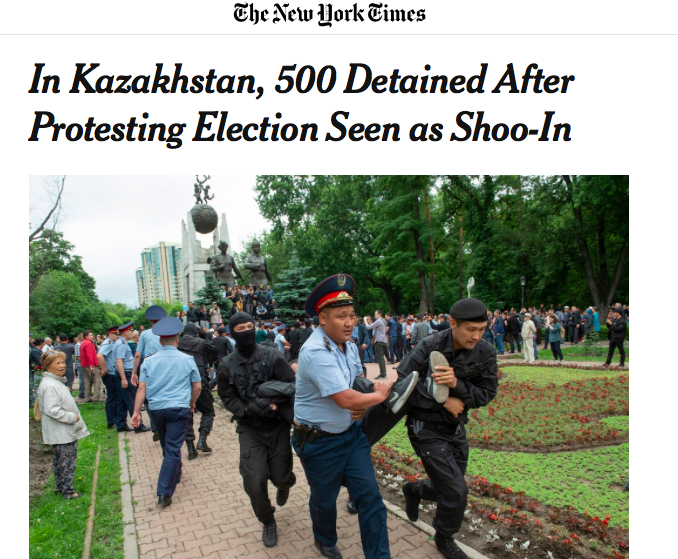 The police detained about 500 people in Kazakhstan on Sunday who were protesting a presidential election that they called undemocratic. Activists chanted, "Shame! Shame!", according to The New York Times.
The election was set to confirm Kassym-Zhomart Tokayev Kassym-Zhomart Tokayev as the successor to Nursultan Nazarbayev, who ran the oil-rich country for almost three decades. For many of Kazakhstan's 12 million registered voters, Kassym-Zhomart Tokayev was the only familiar face among seven candidates.
Kazakhstan is one of the most prosperous former Soviet republics, The New York Times wrote. It stands at a crossroads between China and Russia. And the anticipated smooth transition was viewed as positive news by those neighbouring countries, as well as by foreign energy and mining companies that have invested hundreds of billions of dollars in the Republic of Kazakhstan.
Tokayev has promised to take guidance from Nazarbayev, 78, on strategic matters. The arrangement under which Nursultan Nazarbayev effectively remains in charge ensures continuity but also means lingering political uncertainty until he withdraws from politics. Nazarbayev had routinely taken more than 90 per cent of the vote in previous elections described by Western observers as neither free nor fair.
Facebook and Telegram were inaccessible early on Sunday in Almaty. But that did not prevent hundreds from rallying in Nur-Sultan, according to The New York Times.
Tokayev, according to the observer, is likely to continue Nursultan Nazarbayev's policy of maintaining a foreign policy that attempts that attempts to balance the influences of China, Russia and the West.
That approach has helped Kazakhstan attract foreign investment and open up markets for its oil and metals exports. As interim leader, Mr. Tokayev appointed new deputy ministers but eschewed major personnel or policy changes.
BBC news published a critical article following the last Sunday election in Kazakhstan and subsequent protests.
Large-scale protests – the biggest the country has seen in years – have been reported in Kazakhstan's capital, Nur-Sultan, and its largest city Almaty. Hundreds of peaceful demonstrators, and several journalists and activists monitoring them, were detained by police.
Kassym-Zhomart Tokayev, as quoted by BBC News, has urged police to exercise restraint and be tolerant towards those with different views.
Mukhtar Ablyazov, leader of banned opposition group the Democratic Choice of Kazakhstan (recognised by court as extremist one and banned in the territory of Kazakhstan – editor's note), said the election was a sham with a predetermined outcome and urged his supporters to take to the streets in protest.
In a video posted to social media, he said "thousands of protesters" had gathered in Almaty's Astana Square. Demonstrators chanted "boycott" and "police with the people" before their protests were broken up by authorities.
The prospect of a democratic handover of power in Kazakhstan is "an illusion", Human Rights Watch has said, as BBC news quoted.
The columnist said given Mr Tokayev's close links to the outgoing leader, Nazarbayev is expected to retain much of his influence as head of the governing party.
According to the French Le Monde, presidential election in Kazakhstan was marked with largest protests in the last three years. The most virulent opponent of the regime, former exiled banker Mukhtar Ablyazov, called for protests on Sunday.
The protests, according to the media, caused sharp response of the authorities, which strengthened the suppression of media and opponents during and after the election.
Human Rights Watch (HRW) in their statement explained that the idea of political handover is "an illusion" and emphasised the continuing human rights violations during the interim presidency of Tokayev.
The interim president of Kazakhstan had six rivals, yet none of them was known to wide public and only one could be seen as his real rival. Moreover, Tokayev in his election campaign could rely on support of many celebrities and state's resources.
Le Monde concluded that the election won't ever be recognised as free and fair by the international community.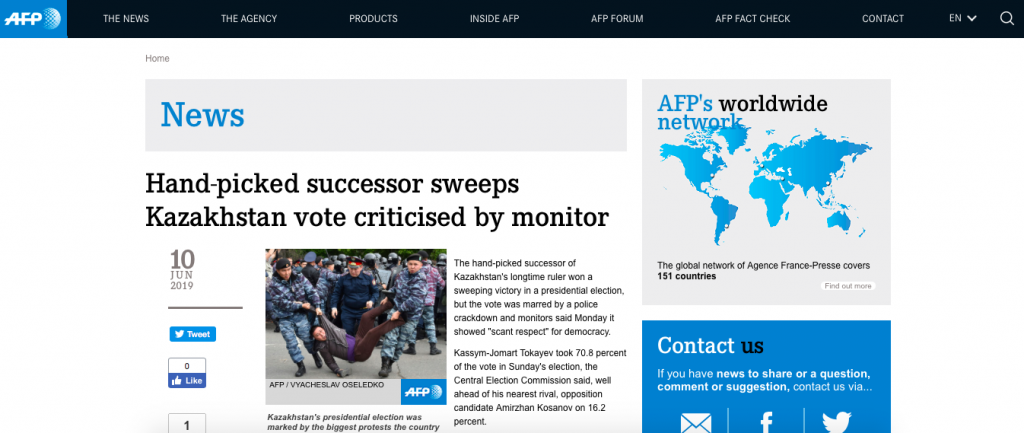 According to French Agence France-Presse (AFP), the authorities of Kazakhstan said they would investigate all allegations of vote violations.
One of the rivals of Kassym-Zhomart Tokayev, Amirzhan Kosanov, who took the second place in the presidential election, criticised "foreign" opposition activists, who urged the voters to boycott the election.
"People are ready for an equal dialogue with authorities," AFP quoted him.
Third place was claimed by Daniya Yespayeva, the first woman candidate in a Kazakh presidential election, who scored 5.2 per cent of the ballot, according to the CEC.
Despite a relatively high turnout of 77 per cent announced by the CEC, many citizens in Nur-Sultan and Almaty told AFP that they had not voted.
Thus, AFP quoted Aigul Eskarayeva, a 60-year-old pensioner in the capital Nur-Sultan, who said she had not taken part as she thought voting in Kazakh elections was pointless.
Sunday's demonstrations took place in both Nur-Sultan and Kazakhstan's largest city Almaty. Several hundred rallied in Almaty before police moved in to detain protesters.
Journalists, including two from AFP and reporters for Radio Free Europe/Radio Liberty, were among those detained in Almaty but were later released.
According to AFP, despite the fact that Nazarbayev turned the country of 18 million people into an energy powerhouse while governing with little tolerance for opposition, he is still expected to call the shots from behind the scenes.
The reviewer of Kommersant, Dmitry Drize, fears that Kazakhstan's scenario of transition of power would be repeated in Russia in five years.
"A transition of power has taken place in Kazakhstan – a more than significant event. When CEC counted the votes given at presidential election, the major cities of the country saw rallies. Although sparse, they were accompanied by tough detentions – tough even for Kazakhstan, where it's unusual practice to be too soft on protesters. The rallies resulted in wounded, some even badly wounded people. Tokayev said the protesters were actually provocateurs who intentionally wanted to conflict with police. The major causes of street protests were traditional: people suspect the election was a fake and generally they are not longing for changes, but for some amendments. However, the authorities do not promise that to them. Instead, they carry out tough detentions."
"We could say the affairs of Kazakhstan have nothing to do with the Russians. However, Russia is going to have the transition of power. Taking a look at our neighbours, I can imagine this is the option we are going to have. I mean no changes, but technical rearrangement. Therefore, the Kazakhstan's election mechanism leaves no optimism, which we already are running out of," Dmitry Drize wrote.
By the way, it's worth saying that in the years of perestroika it was Nursultan Nazarbayev who was deemed the chief reformer in the post-soviet space. He promised to turn Kazakhstan into a next "oriental pearl". It seems this promise has not come true. However, he always managed to maintain this image for a long time. He was the one who engrafted an idea in the mind that Kazakhstan cannot exist without Nazarbayev.
Interestingly, two key powers of the former USSR held elections. The winner in Ukraine, Vladimir Zelensky, said, "We could do it and you can". He is seen as a symbol of changes. Kazakhstan also has an old national leader and a newly appointed president. Tough detentions amid election have become a kind of tradition. Russia is somewhere in-between.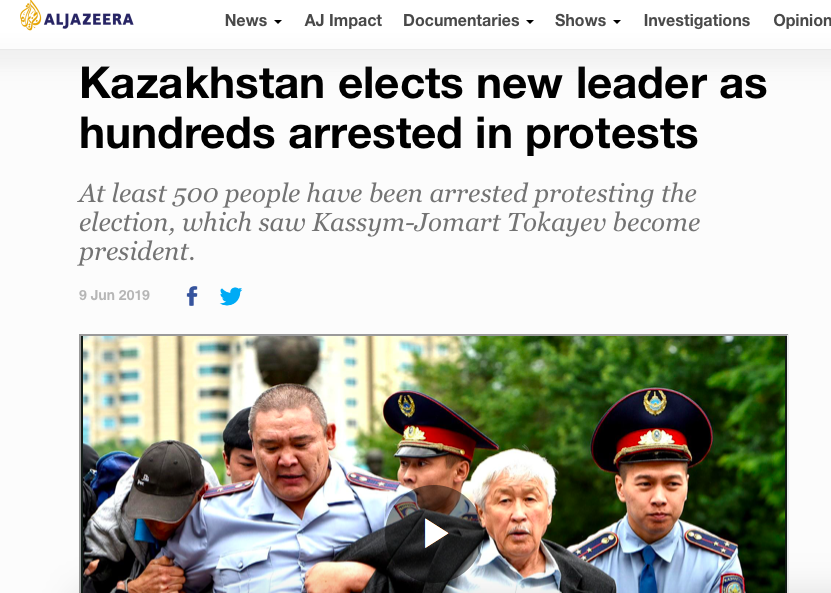 Al Jazeera reports that at least 500 people were arrested over election protests. On June 10, exit poll results showed that the interim president, 66-year-old professional diplomat Tokayev won 70.76 per cent of votes.
At the same time, the government-approved opinion poll showed that the nearest rival of Tokayev, Amirzhan Kosanov, won 15 per cent of votes.
These figures became known when hundreds of people were arrested in the capital Nur-Sultan and the second major city of Almaty. Protesters urged to boycott the snap election, which, according to them, was staged to make a politician loyal to Nazarbayev win, the article reads.
In the build-up to the election, authorities have reportedly been cracking down on opposition; protesters have been sentenced to short stays in jail and police have been raiding activists' homes.
Deputy Interior Minister Marat Kozhayev said "radical elements" had been arrested at "unsanctioned rallies", news agency reports.
The OSCE had more than 300 observers to monitor the poll in Kazakhstan and later on in its report, according to Al Jazeera, wrote the Kazakh election was not democratic.
---
This article was prepared as part of the Giving Voice, Driving Change – from the Borderland to the Steppes Project implemented with the financial support of the Foreign Ministry of Norway. The opinions expressed in the article do not reflect the position of the editorial or donor.