Requirements to minibus drivers are poorly monitored.
---
Authors: Gulshaiyr Sabyrbekova and Umida Bekpulatova
Editor: Timur Toktonaliev
Transportation providers, in addition to the mayor's office, monitor the performance of minibuses in Bishkek. According to deputy director of transportation provider Kuiun, Mukash Duishenaliev, every bus terminus has a substance abuse professional. "They don't fall under our control. Drivers pass blood pressure test, drug test every day in checkpoints, and their vehicles are inspected. Only after that, they can work. Moreover, we train drivers and license them on an annual basis,"
Mukash Duishenaliev
said.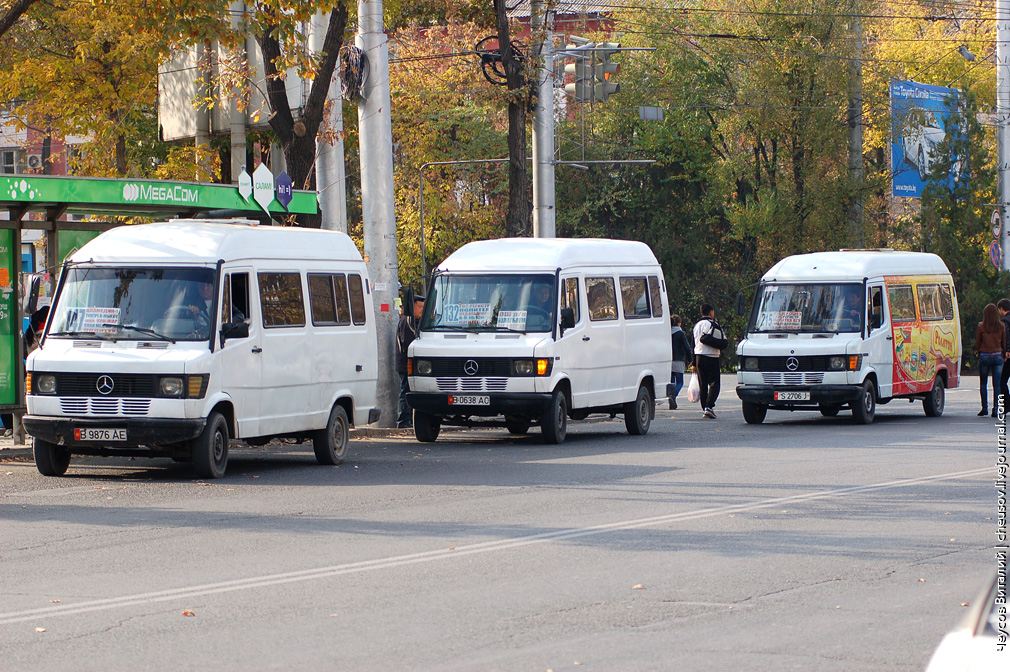 We asked him a question, "what measures do you take when drivers violate traffic rules", and he said that "in such cases, the board holds meetings every Thursday to make decisions."
No One Performs Vehicle Inspection
We have decided to check whether deputy director's words are true. So we started with the bus terminus where drivers started their route from. After 6 am, we went to a checkpoint at Chon Aryk. First, we were just watching vehicles gathering. For half an hour, 15 minibuses were arriving and their drivers walked in and out the checkpoint in 1-2 minutes. No one inspected their vehicles. Then we went into the checkpoint and asked some questions to the substance abuse professional.
—How do you check drivers?
—First, they blow into a glass tube and we check them for any alcohol in blood. If we have any doubts about alcohol in blood, we perform a second test. Yet in most cases, the second test is not needed. We check drivers of only 2 routes, so there are few vehicles and I know every driver. If anyone had drunk, I can tell it by their behaviour, without any test needed. Meanwhile, a driver came into the checkpoint and gave 20 soms to the substance abuse professional [SAP] together with papers. The SAP looked through the papers, wrote down something and let him go.
—Why didn't you examine the driver now?
—It's not necessary to check blood pressure of drivers on a daily basis. If a driver complains of feeling sick, we examine them. If a person hadn't drunk, it's obvious.
—Who's responsible for vehicle inspection?
—There's a mechanic outside. We didn't find any mechanic outside. When we were about to leave, a SAP came to us and said, "I forgot to say that the mechanic has asked recently to go to hospital. We approached drivers and asked them about the mechanic. One of the drivers said that the mechanic was here at 5.45 am and then left. So, we never saw the mechanic inspecting any vehicle that day.
The situation is the same on the Yuzhnaia Motorway
The next day, a weekend day, we came to the checkpoint at Yuzhnaia Motorway early in the morning and started our observation again. The yesterday's situation happened again. One or two drivers would enter the checkpoint and leave it in a minute. Some entered the room with passengers waiting for them in minibuses. We didn't find any mechanic here, too. After a thirty-minute wait, we entered the checkpoint. A SAP,
Samat Ismailov
, met us there.
– As we see, it takes one minute maximum to check a driver. How do you manage to check them so fast?
—There are few vehicles on weekends. So we check them fast.
—Why don't you check them for alcohol in blood?
—An inebriated driver can be determined by their appearance. If we have any doubts, we will check.
—Who inspects the vehicles? We didn't see anyone.
—Our mechanic is sick, he went to a policlinic. It's enough to inspect a vehicle once in 2-3 days. The interesting thing is that both mechanics from different checkpoints were at the hospital at the same time. It's hard to say if it was an ordinary thing or a coincidence. What was obvious is that even if a driver drinks an alcoholic beverage after the check, no one would test him. A SAP checks drivers only in the morning.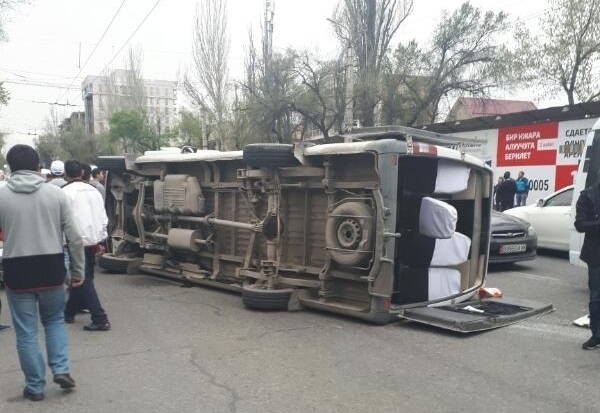 "If we don't talk on the phone, our work would stop"
Then we observed the work of some routes as passengers and noticed some violations of traffic rules. Generally speaking, one of violations is talking on the phone with colleagues. They warn other drivers about traffic police locations, locations of drivers from rivalled routes, share information about the amount of passengers with each other. Drivers stopped at places other than bus stops, dropped off and picked up passengers at improper places. We asked them why they violated traffic rules, and they said that their work would stop if they don't talk on the phone. And when they pick up passengers at improper places, they accommodate to passengers.
A "fairy tale" on Chui-Beishenalieva
We all see a mess that is at the intersection of Chui-Beishenalieva Streets near the Osh bazar. We went there and at the intersection we started to ask drivers, "why don't you stop at bus stops?" Some drivers didn't want to answer and asked us to close the door. Others were outraged saying "It's none of your business! Are you traffic police officers? Close the door!" It's sad that passengers don't want to walk 4-5 meters to the bus stop and hail minibuses at places other than bus stops. "Everybody stands here. Drivers got us used to it by picking us up at any place. If they stopped only at bus stops, we would stand there," passengers said.
Meder Shabdanov, senior inspector of press service of MIA patrol police:
"193 minibuses have been suspended for violation of traffic rules"
-In 2015, 495 traffic accidents with public service vehicles were registered in the republic, which killed 65 people and injured 1011 people. In 2016, 514 traffic accidents were registered, which killed 11 people and injured 290 people. In four months of 2017, 172 traffic accidents with public service vehicles were registered, which killed 11 people and injured 290 people. Thus, on April 16, a minibus and a car collided at the intersection of Baitik Baatyr and Gorky Streets. As a result, 9 citizens were injured, two of them were injured severely. If a driver becomes a victim of a traffic accident, the companies that rent minibuses out blame the driver and are not liable for anything. On February 9, 2017, patrol police held an operation in Bishkek to reduce the accident rate and to maintain order on roads. As a result, over 60 minibuses were impounded. Many citizens write complaints to the municipality about rough treatment of minibus drivers, their smoking, unsanitary conditions inside vehicles. After such complaints, public vehicles were checked and 193 minibuses were suspended.
Nurlan Atykanov, deputy head of Transportation Office of Bishkek:
"Private transportation companies don't want to comply with our rules, so we are in litigation with them"
—What measures are taken in Bishkek to provide safe services to passengers?
—Private companies provide the city with minibuses. They cover 80 per cent of routes, and the remaining 20 per cent are covered with municipal buses and trolleybuses. Trolleybuses operate on 9, and buses operate on 11 routes. The mayor's office has a plan to replace minibuses with large buses and currently we hold talks regarding the purchase of new buses. Today private companies have also brought 12 buses. Bus No. 35, which was earlier closed, is now operating on the route. Talks regarding the supplies of 50 more trolleybuses are almost over. All private companies have agreements with the mayor's office. These agreements will soon expire and a new tender will be announced. In the terms of the tender we will provide that private companies should comply with a set of requirements. They should procure new vehicles, maintain them duly, ensure automatic control, GPS, Wi-Fi, create conditions for people with disabilities. The winners will be the companies that will comply with these requirements. We will make new agreements on the basis of the tender.
— Had there been any cases when you took measures against minibuses that violated traffic rules?
— Together with the Traffic Safety Service, we invite private companies' representatives every month and bring them to responsibility for drivers who have been complained about. We have put on suspension about 93 vehicles since the turn of the year. And we cooperate with the patrol police regarding violations of traffic rules. We register those who violate traffic rules and private companies, where they work, take reasonable measures. This is the first focus. The second focus is on complaints on hotline 195 and response to videos appearing online. We also work to bring the violators to responsibility for such facts.
---
The original investigation has been published on the website of PolitKlinika newspaper with the assistance of the IWPR's Bureau for Investigative Journalism.