Every year minor Kazakhstanis become more aggressive, experts say.
---
Follow us on LinkedIn
---
* This publication was prepared as part of the summer training programme for journalists of CABAR.asia in Georgia..
7.5 thousand minors are registered with law enforcement bodies of Kazakhstan. Over 200 of them are being trained in specialised boarding schools. They get there for one month to one year for systematic administrative offences, antisocial behaviour, runaway, deviation from education, etc.
The country also has 19 functioning minors adaptation centres. In the first six months this year, they have taken 4,000 minors. According to public prosecutors, unmotivated aggression and cruelty have become the main characteristic of juvenile crimes.
According to the interior ministry, in the last eight years, over 70 thousand of street and homeless minors have been placed to the temporary isolation, adaptation and rehabilitation centres. Out of them, 10,796 children were taken to orphanages and boarding schools.
"In the early 90s, such children were much more in number. The main category of inmates has been charged with grave crimes and felonies. The term of service in a correctional facility may be prolonged until the age of 21. But the overall policy of the state is focused on humanisation, as minors undergo educational programmes in juvenile correctional facilities," said Bekbolat Shakirov, the head of the penal system committee department of interior ministry.
According to official data, over 30 per cent of juvenile offenders do not study or work. Moreover, the number of unemployed offenders and offenders who don't attend schools tends to grow. According to statistical data, the majority of offenses are committed at the age of 16-17 years old.
A resident of Nur-Sultan, Zhupar Tokisheva, is a mother of two teenagers. According to her, one of the reasons of growing crime rates among adolescents is the lack of moral obligations and respect, lack of guidance.
"Another reason is the lack of conditions encouraging the development of young people, lack of education both at home and at school. This problem should be resolved comprehensively, I think. This year has been announced as the Year of Young People in Kazakhstan, and I hope there will be outcomes and shifts in this regard," Tokisheva said.
"Care and public attention are needed"
A third-grader of Nur-Sultan, Ruslan Polyansky, would be glad to get busy with useful activities, but he doesn't have an opportunity:
I do my homework and attend boxing classes in my spare time. There are few free-of-charge boxing classes in Nur-Sultan and they are available only during weekends. That's why I attend them on Saturdays and Sundays only. I play outside the rest of the days. My mom allows me only 40 minutes a day on PC, and I don't have a mobile phone. I wish a free sports school and sports classes would open here.
Last year, members of Kazakh parliament asked prime minister to find reserves and make mass sports and physical education more available, as well as to equip common areas, parks, public gardens with sports facilities. Among other suggestions were further training of school psychologists, child counsellors, camp counsellors. And still to no avail.
A member of the Senate of the Parliament, Sergei Ershov, noted that children should be in focus in the educational work, especially with parents.
"Children should be taken care of and attended by the whole community, only then they won't have time or chances to violate the rights of their peers and to misconduct. We should preserve our children from public vices. If one thinks that a 10-year-imprisonment of a minor can make an adequate adult out of them, they are wrong," Ershov said.
If one thinks that a 10-year-imprisonment of a minor can make an adequate adult out of them, they are wrong.
A month ago, the president of Kazakhstan endorsed a law, which makes amendments to the protection of children's rights legislation. In particular, it provides for creation and operation of support centres for children in difficult situation, and also inclusion of such centres into a list of organisations responsible for protecting children's rights.
"According to these amendments, new standards of children's rights protection will be developed. We are planning to change the names of special centres for children with deviant behaviour. We should strengthen children support measures and become closer to international standards," Yerzhan Zhirenbai, the key expert of the department for children's rights protection at the ministry of education and science, said.
According to him, they are going to work not only with children, but also with their families. They mean to provide both psychological and financial aid.
The UN Convention on the Rights of the Child turns 30 this year. According to Yuri Oksamitny, a UNICEF representative in Kazakhstan, this anniversary should be marked with serious efforts.
"Children should not be separated from their families, their environment and context, and should have all chances to get back to normal life. Not through punishment, but through education, support, explanation. For example, a teenager stole a phone. Instead of taking them into a detention centre, organisations should take psychological measures to make them return the stolen phone and get them back to their family," Oksamitny said.
Georgia-style humanisation
In 2016-18, adolescents in Georgia committed nearly 1.2 thousand crimes, yet only 377 were punished.
In our country, juvenile courts always try to give a second chance to a child.
Georgia has had a Juvenile Code in effect since 2015. It has changed the system of criminal and administrative prosecution. Now minors may be imprisoned only in exceptional circumstances, for example, for felony.
"In our country, juvenile courts always try to give a second chance to a child. In addition to social service, we always have a psychologist. Every child and their family have all specialists assigned to them," Nino Tsetskhladze, a senior social worker of the regional branch of the Social Service Agency of Batumi, said.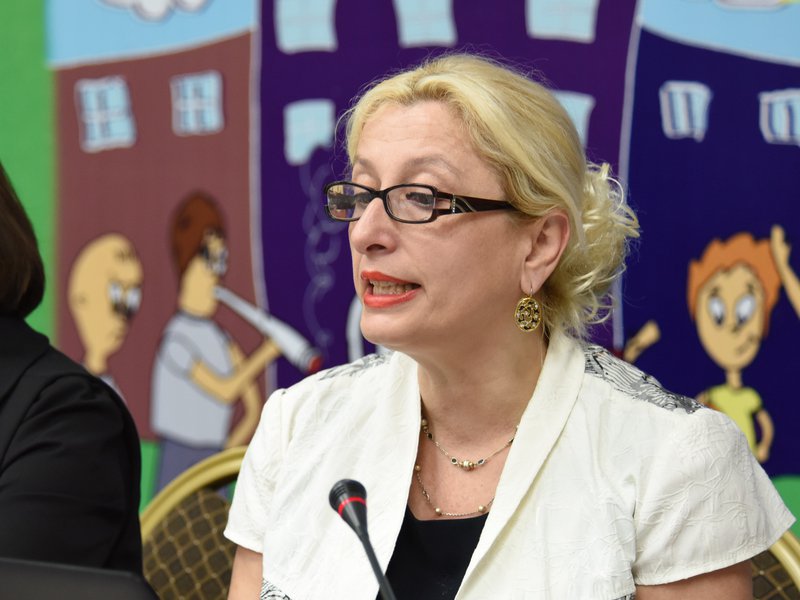 Since 2016, the country has a diversion and mediation programme for the minors. It means that a court tries to avoid incarceration of adolescents. Instead, a minor may be transferred to a foster family, given a written warning, sent to correctional labour, obliged to pay full or partial compensation for the damage caused, etc.
However, the minors who fall under the diversion programme do not get into prison facilities and are not deemed convicted.
According to the director of the Georgian crime prevention centre, Lado Dzhavakhishvili, 2,500 minors avoided criminal penalty in 2016-2018, and only 9 per cent of them committed crimes again.
"We have only one specialised facility in the criminal justice system for the adolescents. It contains about 60 minors. Political will, assistance of NGO sector and, of course, judicial bodies play essential role in achieving such results," Dzhavakhishvili said.
Georgia has few rehabilitation programmes for wayward minors, where they work with psychologists and social workers. The period of participation in the project depends on the severity of a crime committed and can take up from one month to one year. A minor also meets an injured person and both parties state their versions of what happened.
Before work, social worker provides information about the minor to a mediator, namely, what the minor needs, assessment of their family, income, and other social factors. During work, the mediator determines the extent to which the minor understands their guilt. Based on that, a decision is made on how to help the minor to mend their way, what community service should be ordered and what literature should be recommended.
However, if an adolescent can explain the reason for rejection reasonably and soundly, they may be released from fulfilling some obligatory conditions or may be suggested an alternative.
The Georgian governmental programme for child care and social rehabilitation has been highly appreciated by the world community. It covers not only wayward teenagers, but also children with special needs, education of children separately from family or in family-type homes. It also covers children of homeless mothers, and also homeless children.
Georgia has successfully implemented this reform for a relatively short time and Kazakhstan is interested in adopting this practice.
"In Georgia, the point is not only in children, the whole social policy is focused on respect of a person. We are missing it so far. A few years ago, the government of Georgia introduced a package of bills providing for temporary transfer of a minor offender to another family as a diversion from criminal liability. It was a good measure," Vladislav Kosarev, a member of Mazhilis of the Parliament of Kazakhstan, said.
Main photo: prizyv.tv
---
This article was prepared as part of the Giving Voice, Driving Change – from the Borderland to the Steppes Project implemented with the financial support of the Foreign Ministry of Norway. The opinions expressed in the article do not reflect the position of the editorial or donor.