Samsung, Lyft app and environmental startup MissionCTRL. Young specialists from Kyrgyzstan succeed in their career in the United States due to education, determination and continuous self-improvement.
By Timur Toktonaliev 
This series of American Notes tells about the three young Kyrgyzstanis, one of whom works in the Samsung Plus support team, the second one promotes the use of green technologies in San Francisco, and the third one works in the office of popular startup Lyft.
---
Iliyaz Akhmedov, 22
Samsung Research America, Mountain View (California)
Not so long ago Samsung announced the launch of a Samsung+ app, which provides technical support to owners of its phones. This app helps you contact tech expect, see into phone's settings, or find information about the features of your smartphone; share tricks with other forum users.
A large team of various experts stands behind this app making it work smoothly and conveniently. When you use Samsung+, you should know that one of their experts is a Kyrgyz programmer, Iliyaz Akhmedov.
Akhmedov works in one of the Samsung divisions, which is called Samsung Research America. A large group of buildings of the division is located in the so-called Silicon Valley, where offices of innovative US Internet companies are concentrated. Iliyaz searches for various errors and faults in the app and fixes them.
Upon graduation from AUCA majoring in programming, he enrolled in the master's degree program in the University of South Florida, where he is now writing his thesis and also working at the California-based Samsung office.
 "I've never had a goal to move to America and live there happily," 22-year-old programmer said. "My philosophy is no matter where you are … you just want to do some serious things. I would advise this philosophy to all the young people who are now studying in Kyrgyzstan because the world is about what a person can give to the market rather than what market can give to a person. Therefore, it is necessary to self-develop and think about what you can give to the market."
After arriving in the US, Iliyaz started looking for a job because "it was boring just to study." In his CV posted on various websites for recruiters, he specified that he worked during study on various projects back in Bishkek, and he also developed a mobile app for the popular news service, Reporter AKIpress. Samsung Research America is his first job in the United States.
"I think the most important thing I would advise to students is to focus on self-development and on development, in general. There are many routine problems such as how much they pay, or what colleagues I will have, or what is the company I work for … they are not less important, yet not as important as the question of self-development and trying to do things the right way to reach some level," Akhmedov said. "Because if you don't reach some level, you can do nothing about it. So I would advise to study, get a lot of experience. I work a lot, and Samsung is not the first or the last company I worked with, I have done a lot of third-party projects."
Videointerview with Iliyaz Akhmedov (in Russian)
On the Peculiarities of the United States
Here [in Mountain View] I feel much more comfortable than in Florida because Florida is a large relaxation area, and here is a busy area. This is the Silicon Valley with lots of innovations, you can attend any meeting any time; people discuss the latest trends in software development, technologies they use … In this regard, I feel very comfortable here.
The USA is a unique country. Every state is like a separate country and yet they are all united. So, let's say, in the eastern part or in Florida, where I studied, people are less advanced in terms of IT. Here, people are looking for new apps and here people don't worry if their credit card information is stolen through the app because banks here work properly, so this is more or less safe. So, people here are open to innovations, they use IT solutions. I found it surprising that even 50-year-old experts can still work in the IT industry as developers and testers.
On Startups
It's on trend here that people from big companies move to small ones to have more freedom, individual care about every employee. I don't know if I'll do the same, but what I know for sure is that I want to do something on my own.
Theoretically, I want to start a startup and make it big, not just a microservice, so that it could solve some global issues. I want to consider all the ideas, including hardware or some other social issues, despite my major knowledge of computer science.
I have always wanted to develop a system that affects a lot of people, where every pixel plays its role, and if something goes wrong, people would rate it low, and it would be bad for the company. I have wanted to develop this very system so that in the future, when I set up a company, I would know what every user or a million users want for me to be useful to society.
---
Zhamal Zhanybek, 23
MissionCTRL Communications (mc²), San Francisco
Zhamal is the one who started her career in the ambitious startup on green economy promotion in San Francisco after she got her bachelor's degree in the prestigious University of California, Berkeley.
Creative and motivated young people here are not afraid of starting something new on their own because a lot of interesting and convenient services, technologies, etc. in the United States once were startups or remain startups.
The MissionCTRL Communications (mc²) startup, founded in 2015, is consulting and promoting the green economy in the operation of various public and private institutions.
This small entity, just like other startups, involves 15 persons only. Every employee has their own area of work, which can be combined into a whole entity, when necessary. Zhamal Zhanybek, among other things, is responsible for promoting the green economy principles on the internet.
Video interview with Zhamal Zhanybek about life and work in San Francisco (in Russian)
Upon graduation from a Kyrgyz-Turkish college in Bishkek, Zhamal went to the USA to pursue a degree – she studied in a college for two years and then entered the University of California, Berkeley, majoring in Green economy and politics.
She likes San Francisco for its dynamics, creativity and openness to every new thing. Positive changes in the city occur every day: new ideas in construction, service or infrastructure – all of them make San Francisco a very comfortable place to live.
It is the atmosphere that helps the city improve in terms of ecology – electric buses or new heating and cooling systems in new skyscrapers that are based on weather conditions are not abstract ideas on paper but the reality.
"San Francisco wouldn't be a city of innovation if not its openness to every new thing," Zhamal Zhanybek said. "I think we [people of Kyrgyzstan] are on the right path, I can see very active young people in our country. We already have new ideas, creative and out-of-the-box thinking. It is gradually developing, which is great. I think we need time and patience to arrive to this way of life. Our younger generation will most likely start this small revolution."
But the creativity and bold and original ideas are not possible without the real interest of a person in a certain area, and these ideas can be implemented only by continuous dedication and hard work.
Zhamal said she liked to work with people who were really interested in what they do, and they were eager to invest a lot in the implementation of their plans, constantly improving and offering some innovations. This spirit is contagious and you also want to be a part of such a team.
"People here are very determined and self-motivated. You come to work, do your job, mind your own business, but at the end of the day people won't even remember you. But if you have any idea, and you start developing it, offering it to people, i.e. announcing it, people notice you and take you in a different way, like a team player," she said about the business culture in the United States.

"People here always expect something more, i.e. they hire you if they think you have a good potential, you can do something great, you can be very useful to the company, so they rely on you. I think motivation is very important here."
These qualities are taught in the US at school and are actively developed at the university.
Zhamal Zhanybek, aside from obligatory disciplines, also showed initiative in her major and acquired experience: when she was in the first year, she was an intern at the environmental consulting company based in San Francisco, where they had a project with the city hall; when she was in the third year, she worked at the World Bank in Pakistan on water power resources; after she graduated, she went to New York City for six months to be an intern at the UN Democratic Leadership Program. No doubt, this experience helps the graduate in his/her future career.
"Many universities demand that a second-year student must find an internship for summer. This was also a great help, and being in the environment where all students were interns at Google, Yahoo, in very good companies, you also become eager to do it," Zhamal said.
"The American school is very strong because you have to be very independent. You must take the initiative, you have to record the lecture, you have to read books. So, you come to class and you are expected to know the material. You are just urged and asked if you have any questions. In this respect, it is very difficult [to study at US universities] because you have to be very proactive, you should read the material yourself, learn, study, attend class hours, talk to professors, ask questions, do homework. In this regard, you have to work very hard if you want to earn a good grade."
---
Adilet Tilekeev, 24
Lyft taxi app, San Francisco
In the United States, Lyft taxi app and its rival Uber are the most popular services in all major cities. The principle of operation of these apps is identical to the Bishkek Namba or SMS taxi. American apps might be even better, as there are additional functions like trip calculator or the option of complaining about the poor quality service.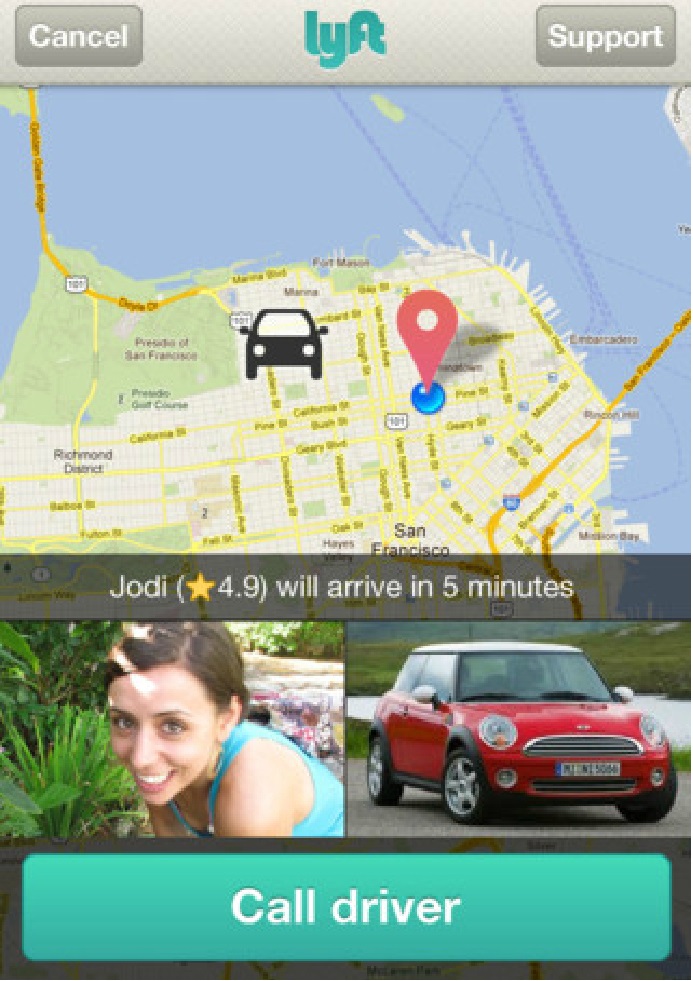 After the emergence of such services, the famous American yellow cabs were seriously challenged and their monopoly, which lasted for several decades, gradually subsided. This was due to two main reasons: a serious cheapness of a trip and a wide coverage of the area, including streets remote from the downtown or suburbs because to a Lyft driver could be any car owner who wanted to earn money in his or her spare time.
Once you enter the Lyft website or download their app, you can calculate how much it will cost you to travel from downtown San Francisco (the intersection of Grant and Bush Streets) to the famous Golden Bridge (Fort Point) – $14.51. For the same route, yellow cab will take about 30 dollars.
Just like a Namba or SMS taxi app, Lyft app has a map of available cars nearby and you can order a cab in one click. But if in a Bishkek app you have to make a call, Lyft is a totally mobile app. Surprisingly enough that a lot of experts work over this app in their several-story San Francisco office near downtown. One of them is the Kyrgyz engineer, Adilet Tilekeev.
Adilet is responsible for the testing of new app functions, error detection and compliance of functions with required parameters.
His job might seem boring and dull, yet he said it is very exciting and interesting to search for errors and improve the code product from within.
Adilet has been living in the USA since 2010, where he moved with his family after his mother won the Green Card lottery and they settled in Mountain View, California, which is one hour drive away from San Francisco.
Video interview with Adilet Tilekeev (in Russian)
In Bishkek, Adilet was studying at AUCA, so after moving to the United States he went to college in the major of business administration, but after all he has become a programmer after taking special courses.
During this time Tilekeev has managed to work in several companies in his major, and he notes the positive peculiarities of the corporate culture in the American organizations that promote the development and improvement – of both the employee and the company.
"I'm 24 and if I worked in Bishkek, I would not be able to say anything to a manager just because he were older than me. And here I can come to the president of the company and suggest that we do this way or another and he would listen to me. He would be listening to me for five minutes and then he'd say whether it was a good or bad idea, etc. But in Bishkek it wouldn't be possible to have a direct contact with the management. They would just say sorry, you are not our level," Adilet said.
"And when we come here, such mentality affects us. Sometimes you think "not, I can't talk to him because I am younger or my position is inferior … but then, after a while (my friends have confirmed this) is turns out that I can take the initiative, talk, have same level contact. If we compare the two business cultures, they welcome the feedbacks, opinions, ideas and criticism."
"Therefore, everything here is developing dynamically, they listen, consider every idea, give a chance to implement these ideas," Adilet summarized.
Recruiters of the largest US app, Lyft, found the Kyrgyz guy after reading his CV on the Internet. Despite the high status of the company and big competition for jobs, Adilet said, the recruitment process was simple and took about three weeks; managers and recruiters were friendly and positive.
"When I entered their office, I saw young and energetic people here, and I liked it. When you work in a large corporation, everything is a bit different: there are concepts of a senior-junior, own hierarchy, bureaucracy, strict policy, but here I felt the atmosphere of a startup."
"And when I came out from the interview, I was absolutely sure, which I never felt before, that I would be working there, as if I knew they would hire me," Adilet said.
But to cope well with the tasks, extraordinary challenges, be able to find ways out of unexpected situations, you need a quality education, training and the desire to always learn new things.
If a student has a desire, colleges and teachers help him build up these skills, Adilet said.
"You take classes and they make you work on your critical thinking, on your ability to cope with critical situations, on your ability to work in a team – I learned these qualities while I was in college here, when you feel yourself a part of a team, you must represent your team, you have to defend your thesis, the research," the Kyrgyz programmer recalled.
"Here I come to school and I have a desire to learn in campus because the books they give are always new, there is always Internet, computers are new, so I never have problems with downloading, finding something, meaning the resources are always available. There is a lot of information, you just have to be assiduous and submit your homework on time," Adilet Tilekeev recommended based on his experience .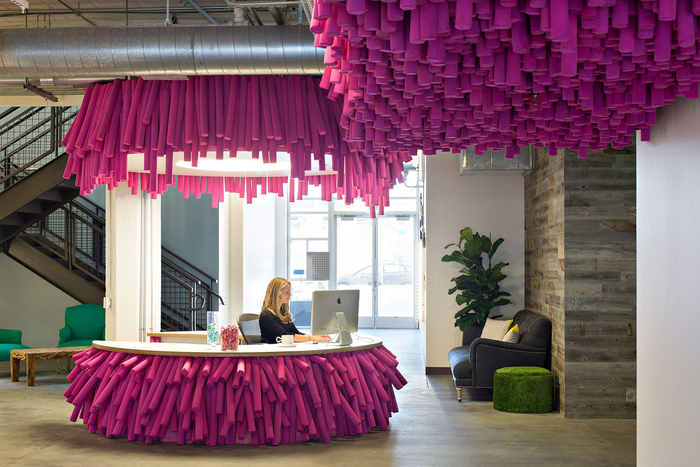 And in spite of the success achieved and knowledge acquired, the desire to learn new things, meet new challenges and achieve new goals is a motivating spirit, a positive factor to continue the positive work.
"There is such a term – peer pressure – it is for venturous people. If someone is better than you, then you learn to think that you can do the same, and once you start, you succeed. So, when your peer does something, you try to keep up with him or even outstrip him. I think this is a good example when you have to self-improve in terms of work, study, sports…everywhere," Adilet said.
The author is grateful to Zarema Asanbekova, Frosya Burlakova, Bektour Iskender and Tilek Mamutov for the suggestion of characters.
This article was produced under the ICFJ's South and Central Asia Digital Media Co-op Program.
Another articles from the author's "American notes" can be read here: Endless Stream of Kyrgyz Refugees to the US and Tilek Mamutov – On Internet Balloons
Originally this article has been published in Russian http://cabar.asia/ru/pokolenie-kyrgyzskih-pokoritelei/